Father of murdered Dodgers fan to ask Giants fans for evidence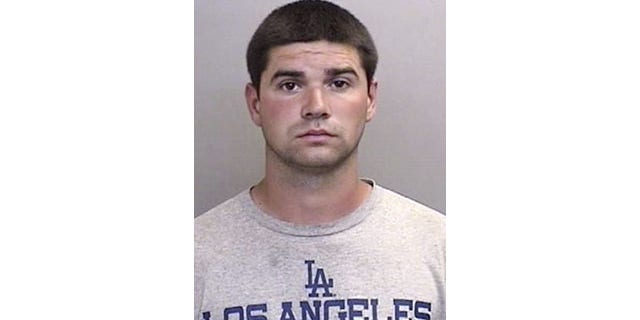 NEWYou can now listen to Fox News articles!
SAN FRANCISCO – The father of a Dodgers fan fatally stabbed Wednesday during a melee following a Giants baseball game is planning to make a public plea for witnesses after San Francisco's district attorney said he lacks evidence to charge a suspect who has been released.
A family member said the victim's father plans to speak outside the Giants' stadium at noon before the scheduled 1:05 p.m. PDT Sunday game with the San Diego Padres.
The suspect, Michael Montgomery, 21, was released from custody Friday night after District Attorney George Gascon said police had insufficient evidence to charge him in the death of Jonathan Denver, 24.
Gascon said police had not spoken with any independent witnesses who may have witnessed the fight Wednesday night. The victim's father, Robert Preece, believes someone may have recorded the melee with mobile phones, said Preece's sister Jill Preece Haro.
"We have reason to believe someone recorded this," Haro said in a phone interview, adding that Denver's father and others with him saw bystanders were using cellphone cameras. "We're calling on them to come forward to help both families find out what happened."
Haro said the victim's father, who works as security guard at Dodger Stadium, and other family members were motivated to travel from his Southern California home to make his public plea after Montgomery's release and Gascon's explanation for not charging Montgomery.
"The San Francisco Police Department has provided us an initial investigation," Gascon said in a written statement Friday night. "However, not all witnesses have been interviewed, nor have any independent witnesses of the incident been interviewed. We have requested this and other evidence be collected before we can make an assessment on whether charges should be filed."
The San Francisco Police Department didn't return phone calls Saturday.
Haro said the father plans to issue his call for witnesses to come forward at the ballpark's Willie Mays statue. The victim's mother and brother also will be present.
"This is how he wants to address the media," said Haro, who said she divides her time living in Pittsburgh, Pa., and Covina, Calif. "We are still formulating a plan, but we're coming up."
Denver was stabbed to death after attending the game with his brother, father and two others to celebrate his father's 49th birthday. Denver lived in Fort Bragg, a Northern California city about 170 miles north of San Francisco.
The group, many wearing Dodger garb, left the park after the 8th inning for a nearby bar. At some point, they got into a shouting match over the Dodgers with Montgomery and a few friends who were bar-hopping in the trendy South of Market area. At least one was wearing a Giants cap.
"The back and forth, `Go Dodgers!' `Go Giants!"' Police Chief Greg Suhr said. "And it deteriorated from there."
Suhr said Montgomery made "incriminating statements" that led to his booking the night after the stabbing.
Montgomery's father told the Lodi News-Sentinel that his son was jumped during the fight, and he stabbed Denver in self-defense after Denver and others yelled "Giants suck." The father told the News-Sentinel that his son alleged Denver hit him over the head with a chair during the fight a few blocks from the stadium.
A second suspect was questioned and released by police Friday. Two others were being sought.
The stabbing was the latest incident over the years stemming from one of the most passionate rivalries in sports.
Two years ago, Giants fan Bryan Stow suffered permanent brain damage when he was attacked in Los Angeles.
There was a moment of silence for Denver before the Dodgers hosted the Colorado Rockies on Friday night.
"I just can't understand how, sporting event aside, society's gotten like this," Giants general manager Brian Sabean said Friday. "It's bizarre to me."