Father of Florida school shooting victim lambasted on Twitter for wearing 'Trump 2020' shirt
The father of a Florida school shooting victim was lambasted on Twitter after he was photographed wearing a "Trump 2020" shirt while he searched for his daughter, whom he later found out had died in the bloodbath.
Andrew Pollack was first pictured last Wednesday as he frantically searched for his daughter, Meadow, hours after gunman Nikolas Cruz opened fire Marjory Stoneman Douglas High School. Pollack found out the next day that his 18-year-old daughter had died.
But when a photo of him wearing the "Trump 2020" shirt began circulating on Twitter, several people spewed hateful comments about the grieving father, with no show of remorse.
"Is that, no it can't be..... no, it is.... blood on his hands," user @Mtbbmet wrote on Thursday.
@James36Leonard also tweeted: "I'm unforgiveable, but it's a little hard to feel sorry who supported this administration and its racist and its NRA supporting policies. I feel sorry for daughter,but not for him. He probably doesn't make the connection behind his Party's policies and what happened to his child"
Other people said they felt "empathy" for Meadow Pollack dying, but turned on the father for voting for Trump. One user said Andrew Pollack should have "thought twice" before casting his vote during the 2016 election.
"Poor dude, lost his daughter and helped enable it to happen at the same time. He must feel heartbroken AND guilt.  Boneheaded shirt (and presidential) choice," @Jumptank tweeted.
"Wonder if he's still a Trump supporter. Sad," @Mamap9456 wrote, to which another user responded: "This is a disgusting comment."
Despite the hateful comments, many users also expressed their condolences and condemned others for politicizing a woman's death. Some said they were "heartbroken" by the loss and urged people on social media to support Pollack during the difficult time.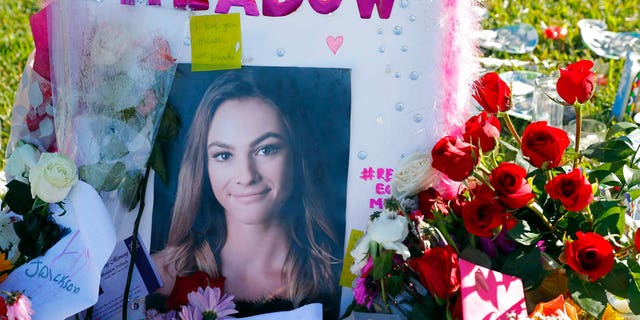 "At what point did politics become the determining factor to decide how liked you are in society. I mean come on. It's a T-shirt. His daughter was just murdered and you guys are telling him he's wrong for a political opinion he had. Y'all need to learn some respect," @thekligerfan tweeted on Sunday.
"These families are suffering & the only thing I can do is send them my prayers & sentiments. I'm so sorry for your loss," said @mebeandeaaolco.
Meadow Pollack was one of 17 people killed last Wednesday during the deadly shooting. Pollack was described as a "beautiful girl, inside and out" by her cousin Jake Maisner, according to the Sun Sentinel. Pollack planned to go to Lynn University for college. Maisner added that the 18-year-old was the "baby" of the family.
"Everyone wanted to protect her," he said.
Her funeral was held on Friday.