Fallen NYC firefighter's daughter pays tribute to dad at Long Island funeral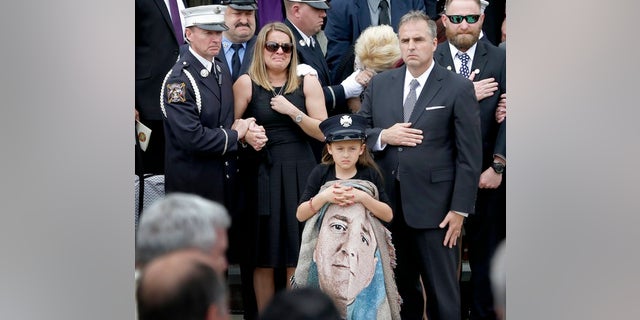 A fallen New York firefighter was laid to rest at a Long Island funeral on Thursday as his 8-year-old daughter paid tribute to her hero dad.
Isabella, the 8-year-old daughter of firefighter William "Billy" Tolley, accepted her father's fire helmet on behalf of her family and clutched a blanket with his face sewn on.
"Daddy is too young to die," Isabella said after learning of her father's death, Rev. Patrick Woods of the St. Martin of Tours Church in Bethpage recalled to The New York Daily News. "I have no Daddy," she said moments later, according to the reverend.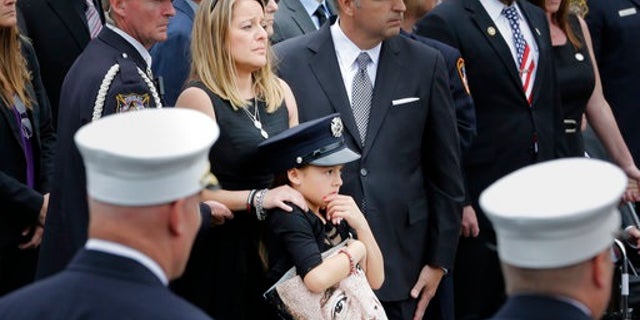 Thousands of firefighters attended the service for Tolley, where he was remembered for his special relationship with his daughter.
Tolley's brother, Robert, recalled telling him to stay safe so he could come home every day to his daughter. "And now that he cannot come home to see her, I will do so, and all his 5,000 brothers in the department will do so," he said.
Jarret Kotarski, a close friend of Tolley's, made a similar promise: "You got lucky, because now you are going to have 40 overprotecting and overbearing dads behind you all the time."
A 14-year veteran of the New York City Fire Department, Tolley fatally fell on April 20 while attempting to get into a bucket at the top of Tower Ladder 135's extendable arm on the roof of a five-story Queens building. Investigators are working to determine what caused Tolley to fall to his death.
Tolley was a member of three firefighting companies: Hicksville Fire Department Heavy Rescue 8, Bethpage Fire Department Ladder Rescue 3, and the New York City Fire Department Tower Ladder 135.
Tolley was also the drummer of a heavy metal band, Internal Bleeding.
"He was a hard-core rocker and also a firefighter with a baby seat in the back of his minivan," New York City Mayor Bill de Blasio said in his eulogy.