Explosive Delta Fire in California triples in size, human-caused, officials say
A wildfire that's shuttered dozens of miles of a major interstate highway in California exploded overnight, tripling in size as it left behind charred remains of abandoned vehicles behind, officials said Thursday.
The Delta Fire has now exploded to 15,294 acres near the Oregon state line as of 11:30 a.m. ET, prompting mandatory evacuations and showing "extreme fire behavior," the U.S. Forest Service said in a statement.
The blaze was human-caused, according to fire officials, who didn't indicate whether it was arson or accident.
Officials told the Redding Record Searchlight newspaper that the area under the evacuation order was rural with scattered residences adjacent to Interstate 5 from Lakehead to the Oregon border.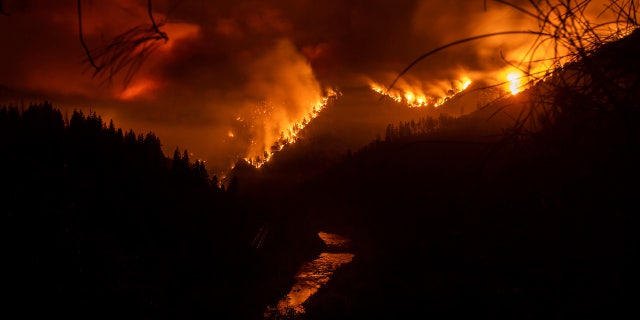 As the blaze broke out on Wednesday, truckers abandoned their vehicles along Interstate 5. In a video, a passenger in a vehicle can be heard screaming: "Oh my God, I want to go!" as trees burst into flames and sheets of fire roiled on the side of the roadway.
TRUCKS ABANDONED AS CALIFORNIA WILDFIRE SHUTS DOWN I-5
About 17 big-rigs were abandoned and at least four caught fire, Lt. Cmdr. Kyle Foster of the California Highway Patrol's Mount Shasta office told the Los Angeles Times. U.S. Forest Service workers helped the driver of one flaming truck to safety and other truckers, firefighters and others aided other drivers, he said.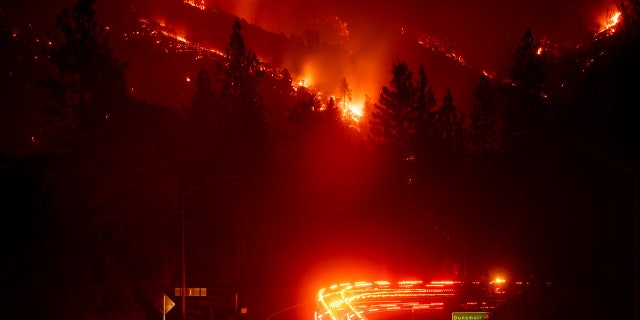 "There's vehicles scattered all over," Brandon Vaccaro with the California Department of Forestry and Fire Protection told the Record Searchlight. "Whatever occurred here was probably pretty ugly for a while."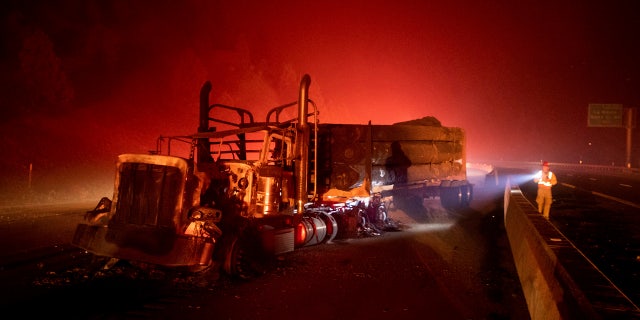 Shasta-Trinity National Forest spokeswoman Carol Underhill told the paper that she wasn't aware of any injuries, but that one man was hurt when he fell off his truck while trying to put out the fire when it first started.
"That is our main focus on this, is firefighter and public safety," Underhill said.
PILOT SHORTAGE GROUNDS AIR TANKERS USED TO BATTLE CALIFORNIA WILDFIRES FROM THE SKY
About 45 miles of the I-5 were closed in both directions, and the fire also delayed Amtrak's Coast Starlight train service between Sacramento and Oregon. The city of Dunsmuir, with about 1,500 people, was about 15 miles from the fire. Residents were issued an evacuation warning, urging them to be prepared to leave if the fire threatened to come closer.
The newest blaze to hit the Golden State comes a month after a nearby fire in the Redding area, the Carr Fire burned some 1,100 homes and killed eight people before only being fully contained last week. Cal Fire has also had to deal with staffing shortages, which have caused air tankers used to fight the flames have been grounded.
Cal Fire officials say that pilot ranks have been thinned recently due to a combination of retirements, private companies poaching talent, and the need to rest after extended fire seasons, causing the agency to rework how they stage crews to attack fires from air.
The Associated Press contributed to this report.