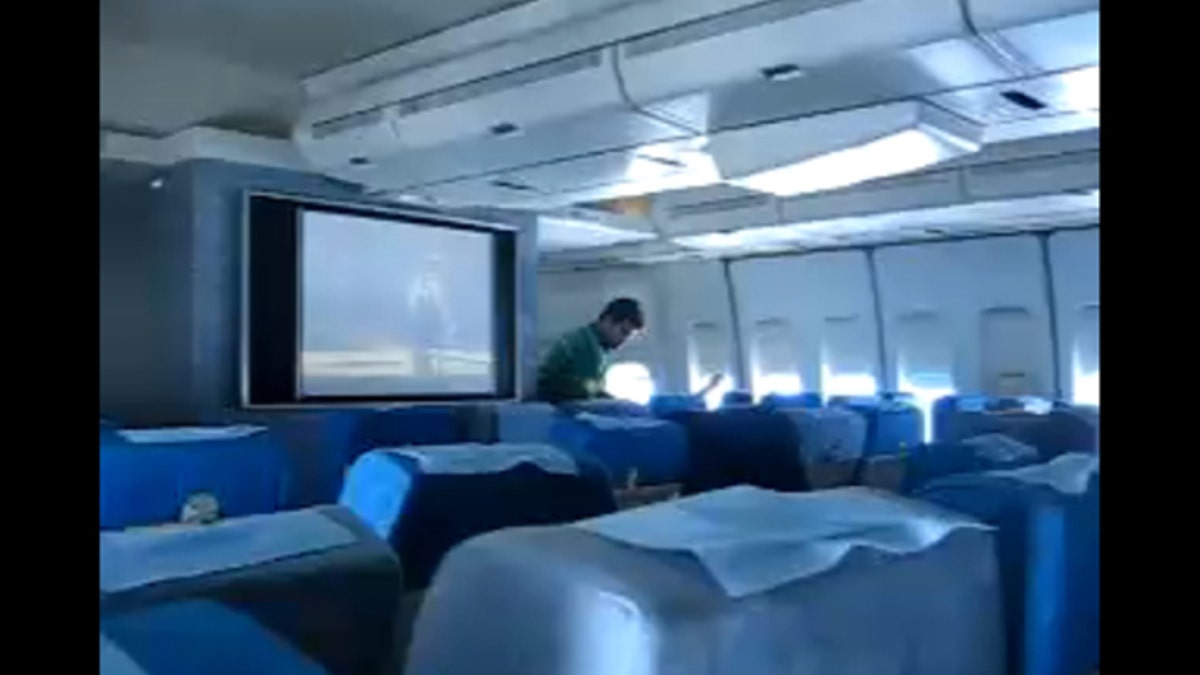 A Venezuelan airline's "mystery" flight that shuttled among the capitals of three of the world's most terror-friendly nations — Venezuela, Syria and Iran — has abruptly canceled its regularly scheduled departures amid accusations that it was used primarily to transport spies, terrorists and lethal cargo among the pariah countries.
"I am sorry, but we are no longer flying to Tehran and I do not know when the flights will resume. It was a flight that left Caracas on Tuesdays, but it no longer does," Jenny Gil Romero, who handles international departures for Conviasa, the national airline that operates the flight, said in a message to FOX News.
Messages to the airline seeking further information went unanswered.
Romero's comments came in response to FOXNews.com's efforts to buy tickets on the regularly scheduled, 48-hour round trip from Caracas to Damascus to Tehran, then back again.
Intelligence analysts with both the CIA and Israel said that, despite the listing of the flight as a regular commercial route and a code share with Iran air -- Flight IR744 is also Flight VO3744 -- there was no way that anyone could buy a ticket and travel without being vetted by the Venezuelan or Iranian government. And without passport controls, flight manifests and other documents, it meant some of the world's most dangerous men could travel without fear of being uncovered.
Curiously, unlike most other bookings on the national airline, calls for reservations on this particular flight were routed to a cell phone in Argentina, rather than to Conviasa's regular service in Caracas.
The Venezuelan ambassador to the United States had defended the flights as recently as two weeks ago in response to criticism in a State Department report that cited the flight's questionable route and procedures. (Click here to read the report.) Messages left at the Venezuelan embassy's press office and the ambassador's office were not returned, and a list of questions submitted to the embassy's press office was not answered.
For the past three years, every other Tuesday, Flight VO3744 would roll out to a secluded loading platform at Simon Bolivar Airport in Caracas. Shrouded from public view and unencumbered by the normal exit procedures, a select passenger list would board the flight.
Over the next 48 hours, according to Western intelligence agencies, Venezuelan opposition figures and a former Iran-based spy for the CIA, the flight would carry illicit, lethal cargoes -- such as explosives and possibly radioactive materials -- and provide safe passage to terrorists, spies, weapons experts, senior Iranian intelligence operatives and members of both Hezbollah and Hamas.
Reza Kahlili, the pseudonym for an Iranian who the CIA has confirmed once spied for the United States as a member of Iran's Revolutionary Guard, told FoxNews.com these "special flights" have been "instrumental in creating an Iranian dominated worldwide terror network that now reaches the United States." He said the flights were used to expand Iran's efforts to create a base of operations in the Western Hemisphere.
Peter Brookes, a former Defense Department analyst and CIA employee now with the Heritage Foundation, said there was a steady stream of elite Al Quds officers from Iran's Revolutionary Guard who were transported to Venezuela aboard the flight and took up positions in the Latin American country's intelligence service.
"We can't say for sure what is going on, but it is clandestine and secretive," he said.
Intelligence agencies are known to suspect the flight may be part of Iran's program to build nuclear weapons. Venezuela has large deposits of uranium, and -- while raw uranium transport is unlikely by plane -- an Internet page in Caracas used by airline employees stated that the flights carried "radioactive materials." The page was quickly shut down after the allegation was made, according to El Pais, a newspaper in Madrid, Spain.
Experts and Venezuelan opposition figures also say the influx of Iranians, as well as Hezbollah and Hamas operatives, into Venezuela on the flight was to prepare for a retaliatory strike against the U.S. if there was an attack on Iran's nuclear facilities.
According to Kahlili, the flight was used to transport Imad Mughniyeh, one of the most wanted men in the world, between Damascus and Tehran before he was assassinated in Lebanon in 2008. Mughniyeh, a top Hezbollah operative, was believed responsible for the 1983 bombings of the U.S. Embassy as well as the Marine barracks in Beirut that killed over 350 people. He was also accused of planning the bombing of the Israeli embassy in Buenos Aires, Argentina, in 1992.
More recently it was the flight to which Abdul Kadir, the Guyanese member of Parliament who was convicted in the attempted bombing of fuel pipelines at New York's John F. Kennedy Airport, was headed when he was arrested. Kadir was accused at his trial of being an Iranian spy.
Alex Vros contributed to this article.