Ex-Girlfriend Says Ind. Teen who Admits Strangling Brother Wanted to be Like TV Killer Dexter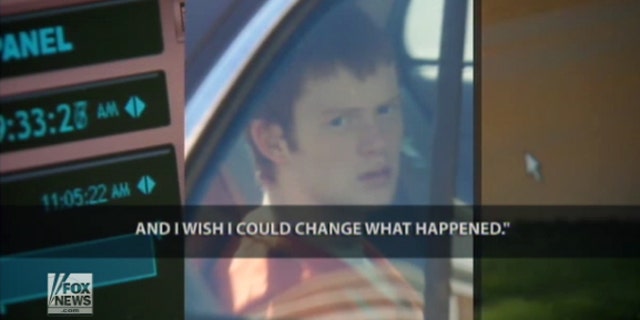 NEWYou can now listen to Fox News articles!
RISING SUN, Ind. – An Indiana teenager who pleaded guilty to murder confided that he wanted to be just like the TV serial killer Dexter a few weeks before he strangled his 10-year-old brother, his ex-girlfriend testified Tuesday.
Fifteen-year-old Alexis Murafski told a judge about her conversation with Andrew Conley shortly after the 18-year-old defendant apologized for the crime during his sentencing hearing.
"I am very sorry for murdering my little brother and I will never forget how much he meant to me and so many other people," Conley said, reading a handwritten statement from his seat at the defense table. "I still have no idea why this happened, but I really wish I did."
Defense attorneys objected to prosecutors asking Murafski about Conley's interest in the Showtime series "Dexter," but Ohio Circuit Court Judge James Humphrey allowed the testimony since Conley had told police officers he felt like the fictional character after killing his brother.
Murafski testified that Conley talked about the Dexter character while they were walking in the small Ohio River town of Rising Sun near where Conner Conley's body was later found.
Conley told police he held his brother in a choke hold while wrestling at their rural home and dragged him into the kitchen after he passed out, where he strangled him for 20 minutes. He then drove to his girlfriend's home and gave her a promise ring with Conner's body in the trunk of his car.
During closing arguments on the fifth day of Conley's sentencing hearing, Dearborn-Ohio County Prosecutor Aaron Negangard, quoting Conley's own words to police, argued the teen was a "monster" who should "rot in jail for the rest of his life."
He said Conner Conley's age when he died outweighed whatever factors the defense might cite to try to get a lesser sentence.
"His life was ended way too short," Negangard said of Conner, who witnesses said idolized his older brother.
He also disputed defense claims that Conley was seriously mentally ill and heard voices.
"The voices didn't tell him to do it, he just decided to do it," Negangard said.
Defense attorney Gary Sorge, however, pointed out that three different psychological experts who interviewed Conley all said he was seriously mentally ill, a factor that can be weighed toward leniency under Indiana law.
Sorge also said Conley had cooperated with police, turning himself in the day after the crime and leading them to key evidence. He also said Conley clearly showed remorse, though Negangard argued that was self-serving.
Sorge argued that Conley had accepted responsibility for killing his brother and refused to blame a troubled home life that included an episode in which a previous stepfather had paraded through the house with a gun in his mouth, or an alleged molesting.
"He took it all on himself," Sorge said. "He described himself as a monster."
A psychologist called by the prosecution testified Tuesday that he believed Conley showed signs of being a psychopath, though under defense questioning he acknowledged that he hadn't interviewed the teenager.
Dr. James Daum said violent fantasies of dismembering and burning people that Conley said he had had since eighth grade, his lack of emotion and the killing itself could be considered psychopathic characteristics.
Two mental health experts testified Monday that Conley told them he felt as if he were watching Conner's killing while it occurred, a condition they said is known as dissociation and is brought on by stress.
Conley was calm as he read his statement, which took several minutes. He said he goes to sleep every night wishing he could change what happened.
"I will accept wholeheartedly the punishment I am given and deserve," he said.
Humphrey will rule Oct. 15 on whether Conley should receive a life sentence or be sentenced to 45 to 65 years in prison. Negangard argued that even the 65-year sentence was too short, since he could be released in about 30 years with credit for time served and education while in prison.