Ex-Dallas police officer Amber Guyger indicted in murder of Botham Jean by grand jury
Amber Guyger, the Dallas police officer who was fired earlier this year following the fatal shooting of her black neighbor inside his apartment, was indicted by a grand jury Friday on a murder charge, according to court records.
Guyger was arrested and initially charged with manslaughter in September in connection with the shooting of 26-year-old Botham Jean, a native of the Caribbean island nation of St. Lucia who was employed at the accounting and consulting firm PwC in Dallas.
The online records from Dallas County were posted ahead of a news conference in which authorities announced the decision of the grand jury.
The former police officer shot Jean on the night of Sept. 6 when she returned to her home after ending her shift, according to investigators. She reported the shooting to dispatchers and told responding officers that she had mistaken Jean's apartment for her own.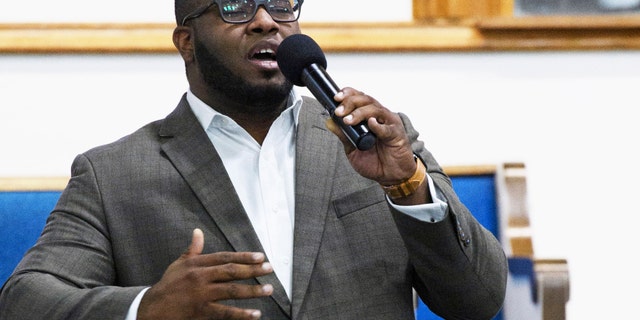 Dallas County District Attorney Faith Johnson on Friday thanked and praised the grand jury for the "diligence they have given to this case."
"We presented the evidence and we explained the law," she said.
The district attorney's office made sure its investigative efforts were thorough "so we would know all the pieces of evidence we need to take before the grand jury," Johnson said.
She added that she believed Jean's family were "very happy" with the indictment.
Members of Jean's family spoke to reporters after the district attorney, including his parents. His mother said she was "satisfied" with the murder indictment "because I truly believe that she inflicted tremendous evil on my son."
"I look forward to the next step, which is a conviction of murder of Amber Guyger and more so, of a penalty, the proper penalty, that will cause her to reflect on what she has done and the pain that she has caused, not only my son, but my family, my church, my country," she said.
Her husband took the microphone next, saying that their family is "hurting deeply" but take solace by the indictment.
"We really hope that our hearts will be comforted even more," he said. "It is such a hard thing to go through. We miss our boy dearly. He didn't deserve that."
Guyger told investigators that after work, she went to her apartment building and parked on the fourth floor of the complex's garage, rather than the third floor, where her unit was located, according to an affidavit prepared by the Texas Rangers. She said she arrived at what she thought was her apartment — Jean's was situated right above hers — and found the door ajar. She opened it to find a figure standing in the darkness. She said she pulled her gun and fired twice after the person ignored her commands.
This is a developing story. Please check back for updates. The Associated Press contributed to this report.