Evergreen State sees 'catastrophic' drop in enrollment after social justice meltdown
Evergreen State College enrollment plummeted after fallout from the controversial "Day of Absence" in May 2017 when all white people were asked to leave the campus.
The publicly funded college – committed to social justice – became the poster child of a campus overrun by hyper-political correctness when students shut down the campus and shouted down then-evolutionary biology professor Bret Weinstein for merely questioning the event kicking white people off campus.
Weinstein, who describes himself as "deeply progressive," ultimately lost his job and was labeled a "racist" and "white supremacist."
Although just estimates, a representative from Evergreen said they expect around 350 freshman this fall, with a total of 3,000-3,100 total enrollment, both of which "do represent significant decreases as compared to before the 2017 unrest."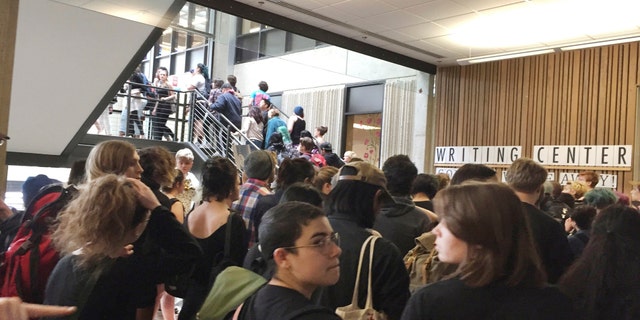 "It's a catastrophic drop, but I'm hoping we'll recover," Evergreen Professor Mike Paros told Fox News.
"Advocacy and activism rather than the pursuit of truth and knowledge is being promoted as a way of recruiting desperately needed new students," Paros wrote. "Bringing in new faculty or guest speakers with conservative or centrist political perspectives is considered risky and out of the question at the moment. Fear and self-censorship is pervasive among Evergreen faculty, especially under the existing budget crisis."
Paros is the only remaining Evergreen educator on Heterodox Academy, an advocacy group of professors to counteract narrowing of viewpoints on college campuses, and the practicing veterinarian who teaches biological and environmental sciences is offering a new class this fall to help change that.
The class is called "Liberal Education in the College Bubble: Crossing the Political and Cultural Divide." He is using the college as a case study to show students how higher education deals with "issues of political diversity, free speech, freedom of thought, and censorship."
Paros' course description includes a trigger warning: "Students who require 'ideological safe spaces' where particular viewpoints are considered offensive may want to seek a different program."
He hopes the class, which is full despite low enrollment overall, "will show how Evergreen students are more open to diverse viewpoints than they have been portrayed."
The professor also pointed out that "an 'independent' External Review Panel exonerated the president and administrators while blaming Evergreen's woes on Bret Weinstein and 'alt-right' agitators prompted one journalist to ask, 'Who Will the Evergreen Mob Target Next?'"
EVERGREEN PROFESSOR WHO MADE ANTI-WHITE COMMENTS RESIGNS, GETS $240G SETTLEMENT
Even though Evergreen is the only four-year college in the state of Washington to see a decrease in applications, the school's president, George Bridges, instead of pointing to the race-based protests as the problem, said it is "really complex and not attributable to any one factor."
In May, to prepare for the drop in enrollment, Evergreen cut $6 million out of its budget – a little over 10 percent of the total – and laid off 20 faculty and staff, as well as not filling 19 vacant staff positions, the Seattle Times reported.
Evergreen is the state's smallest public college, but over the past five years has seen a drop of 1,000 students. In addition to the negative publicity and unsafe environment on campus, some students have said the college was not rigorous enough as their reason for leaving.