Eric Frein trial: Pennsylvania trooper's ambush killer sentenced to death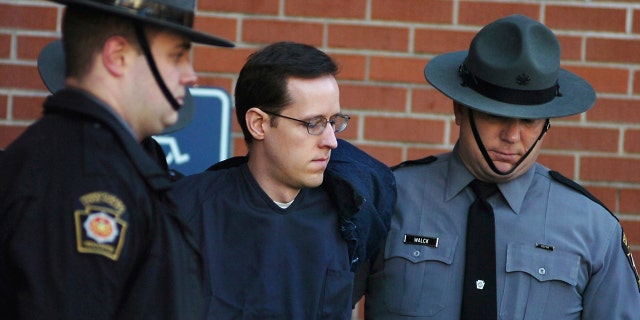 NEWYou can now listen to Fox News articles!
Eric Frein, the would-be revolutionary who shot two Pennsylvania troopers, killing one of them, in a late-night attack at their barracks, was sentenced to death late Wednesday.
The jury's decision that Frein should die by lethal injection brought a shouted "yes!" from a gallery that included high-ranking state police brass, the murdered officer's mother and the trooper who suffered debilitating injuries after Frein shot him with a high-powered rifle. Cpl. Bryon Dickson II, a Marine veteran and married father of two, was killed, and Trooper Alex Douglass was critically wounded.
DELAWARE TROOPER'S KILLER SHOT DEAD MORE THAN 12 HOURS AFTER STANDOFF
Prosecutors said Frein was hoping to start an uprising against the government when he opened fire on the Blooming Grove barracks in the Pocono Mountains on Sept. 12, 2014. Frein led police on a 48-day manhunt after the ambush, and for a time he was among America's most wanted criminals.
"Jurors have delivered full justice in this case and issued the penalty that is so richly deserved by Eric Frein," District Attorney Ray Tonkin said. Frein, 33, did not react visibly to the sentence.
MASKED MAN WITH MULTIPLE GUNS ARRESTED OUTSIDE DALLAS POLICE STATION
Minutes after the jury issued it, a Pike County's sheriff climbed the courthouse cupola and rang the bell eight times, following a tradition that dates to the 19th century. It last rang out to indicate the fate of a condemned killer in the 1980s.
The jury of eight women and four men from Chester County deliberated for about 5 hours, Fox 43 reported.
The gunman likely won't face execution for decades, if ever. Democratic Gov. Tom Wolf has imposed a moratorium on the death penalty, and Pennsylvania's last execution took place in 1999. The state has executed only three people since the U.S. Supreme Court restored the death penalty in 1976.
Prosecutors portrayed him as a remorseless killer who attacked troopers at random in hopes of fomenting rebellion.
Frein kept a journal in which he coolly described shooting Dickson twice and watching him fall "still and quiet." In a letter to his parents, written while he was on the run but never sent, he complained about lost liberties, spoke of revolution and said, "The time seems right for a spark to ignite a fire in the hearts of men."
Frein showed "wickedness of heart" when he "made a choice to pull that cold trigger again, again, again and again," Tonkin said in his closing argument Wednesday.
Frein's lawyers promised to tie up his case in appeals.
Defense lawyer Bill Ruzzo told reporters he was disappointed by the death sentence, and surprised the jury failed to find a single mitigating circumstance that would point to a sentence of life without parole. His lawyers had urged jurors to spare Frein's life, telling them he'd grown up in a dysfunctional home.
The Associated Press contributed to this report.