Effort to save Nevada's starving wild horses riles up community
NEWYou can now listen to Fox News articles!
COLD CREEK, Nev. – Residents of this small hamlet an hour from Las Vegas have grown accustomed to admiring the wild horse herds that run freely in their town, becoming a source of pride for the close-knit community and a tourism hotspot of sort.
But those horses have grown hungry and emaciated because of a lack of forage in the area. Some horses' ribs are showing, their fur is mangy and their bodies are rapidly declining. But an effort to try and rehabilitate them is riling up the community.
Federal workers have been trying to roundup the horses so they could be seen by veterinarians and cared for properly. But several horses have died during the roundup – angering residents who believe it is inhumane and unnecessary.
Officials say it's the only way to save the horses.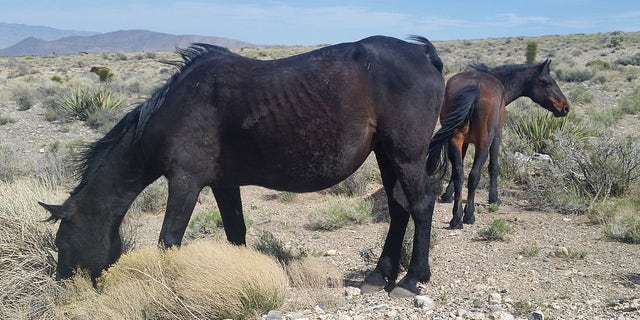 "The reason we're out here because it's been determined that the range can no longer support this part of the herd and so we're gathering them up prior to having to do any more emergency needs down the road," said Donn Christiansen, area manager for the U.S. Forest Service.
Since the roundup began, 85 horses have been trapped and four have died upon capture. Both mares and foals caught are shipped to temporary holding facilities and inspected by a veterinarian. At the facility, a determination is made, based on the health of the horse, if the animal will be transferred to a longer-term care ranch and put up for adoption or whether it should be euthanized.
The horses have formed close bonds with local residents, who have fed them for generations. That has attracted the horses to area, where they tend to stay rather than moving on to other pastures. But the animals, over the years, have eaten up all the natural forage there.
The horses congregate on vast stretches of land, once green and lush, now dry and parched. Herds have to travel great distances for food, sometimes more than 10 miles, and animals experts say that's unsustainable.
"Most of these horses are humanized," Christiansen said. "They've been in too close of contact with humans because of their current location in this community."
Trapping the horses in a roundup consists of using the scent of hay to entice them to an area, where they are corralled into horse trailers and pens.
The massive effort has been met with loud opposition from local residents and protesters who are demanding proof that the horses are actually on the verge of death.
According to the Las Vegas Review Journal, at an information session held before the start of the roundup, officials fielded shouts of "liar!" and "murderer!" from about 50 protesters. Critics believe the roundup just inevitably leads to mass slaughter.
Officials tell Fox News they are working in the best interest of the horse herds.
Managing wild horses populations, which officials falls under the jurisdiction of the Bureau of Land Management and the U. S. Forest Service, is no easy task. The horses reproduce at a rate of 20 percent each year, far exceeding what the land can provide, officials said.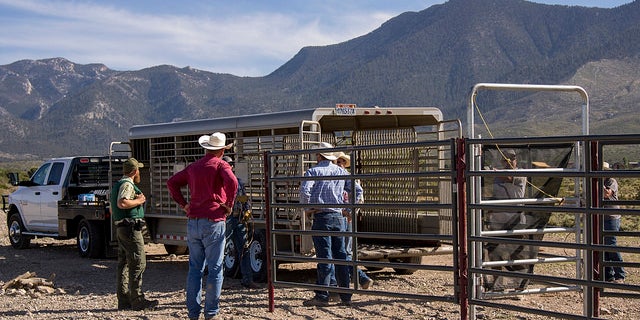 But recent conditions have not been favorable to them. Drought is rampant right now, making it more difficult for the replenishment of forage, and extreme overgrazing has also led to the current crisis.
BLM agents insist food is scarce, and they have to remove some horses so others have enough to eat. There are about 200 horses in the area.
Officials are trying to prevent what occurred in northern Arizona earlier this month on Navajo Nation land, where more than 200 dead horses were found at a dried-up watering hole. Many became stuck in the mud, dehydrated and starved to death.
Some locals say they are glad for the rescue effort.
Angela Moscola said she has admired the horses for years. But this year, she said, she has seen their condition deteriorate – and rapidly.
"I used to come out several times last summer to look at the horses and just see them and come out and pet them," she said. "They were in a lot better condition last year…Their ribs weren't sticking out, their hips, they just looked a lot better. This year, they look horrible."