East Coast fishermen file appeal over cost of government-required 'at-sea monitors'
SEABROOK, N.H. – David Goethel built his life off the profits of cod, trolling the waters of New England for 30 years netting the region's once-abundant signature fish.
"My slice of the American Dream was paid for from fishing," Goethel said from behind the wheel of his 44-foot fishing trawler on a windy Friday afternoon in December. "Cape Cod house, two cars, four college educations – it all came out of the fish hole in this boat."
But a controversial federal mandate is threatening to put him out of business, he claims.
The National Oceanic and Atmospheric Administration, NOAA, requires groundfishermen -- those who catch cod, haddock and other common bottom-dwelling species -- to carry on board "at-sea monitors." The observers, hired by three for-profit companies, are third-party workers whose task it is to observe fishermen's compliance with federal regulations and ensure annual quotas are not exceeded.
The dispute lies in the cost of the monitors and who should pay for them: Fishermen are billed on average $700 a day when a regulator is present.
NOAA, meanwhile, says monitors were placed on fishing boats like Goethel's only 14 percent of the time in 2016 -- and claims the fishing industry supported this system of regulation in 2010 when a vote went before the New England Fishery Management Council, an advisory board to NOAA that sets the rules.
"At sea monitors were originally supported by the sectors when we went from a days-at-sea form of management to a quota based form of management in 2010," said John Bullard, the regional administrator for NOAA's Greater Atlantic Regional Fisheries Office.
Goethel and other ground fishermen are suing the U.S. Department of Commerce, seeking to avoid paying the cost for the government-trained monitors. While many factors have led to an economically struggling fish industry in the Northeast, Goethel described monitor costs as "the final financial blow" to his business.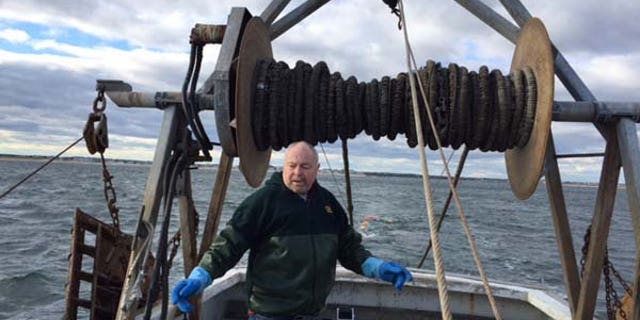 A federal district court judge in New Hampshire ruled against the group of fisherman in August, but the Cause of Action Institute -- a Washington legal watchdog representing them -- filed an appeal last month. The nonprofit advocacy group is suing on behalf of Goethel and Northeast Fishery Sector 13, which represents groundfishermen from Massachusetts to North Carolina.
"It's a lawless act by the government," said Julie Smith, vice president of the Cause of Action Institute and the lead lawyer on the case. "If the government wants a catch monitored, the government needs to pay for the monitors -- it's that simple."
The New England Fishery Management Council set groundfish catch quotas in May 2010 to prevent overfishing. NOAA claims it was determined then that the fishing industry would cover the cost of observers on board the vessels -- their training, commute to and from the boat, supervisor salaries and other expenses.
In an effort to help an industry already suffering from economic hardship, NOAA said it agreed to subsidize those costs until 2012. The agency continued covering a portion of the costs until March 2016 when it ran out of funds to do so, a NOAA official told FoxNews.com.
Fish stocks have been on a steady decline in the North Atlantic for decades. Overfishing, as well as shifting ocean patterns and climate change, have been cited as factors in the dwindling fish numbers. The Gulf of Maine has warmed faster than any other body of water in the world, according to scientists, and some say not enough regulation is in place.
"The ground fishermen in New England have paid an economic sacrifice that, if life were fair, would result in the rebuilding in stocks but we haven't seen that yet," Bullard said.
Goethel begins his work day before the sun rises, leaving the dock in Hampton at 5 a.m. and fishing some 20 miles off shore. After 12 hours at sea with his crew, Goethel, who is also a marine biologist, unloads his catch at the Yankee Fisherman's Co-op in Seabrook. On a good day, his catch brings about $1,500, and he takes home $300.
Under the observer program, Goethel must register his fishing trips on a government website 48 hours before departure. He said he does not know if a monitor will accompany the crew until he arrives at the dock in the morning. For the majority of trips, no monitor is present, but when one is, the cost to Goethel is several hundred dollars -- a fee he said he cannot afford.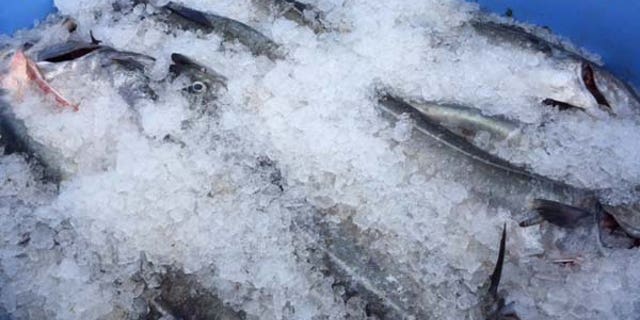 "By the government's own study, 60 percent of the active boats that were registered were made nonviable the day this [mandate] was announced," Goethel said, as he lowered his net from the Ellen Diane, a trawler named after his wife and one of only six commercial ground fishing vessels still operating in the area.
Goethel said he hopes a judge will rule it is illegal on the part of the government to require such a fee and that it is considered a tax.
"I think the regulatory industry has exceeded its legal authority because only Congress can tax people," said Goethel. "This is a regulatory agency that has said, 'You will pay for at-sea monitors or you could lose your job.'"
"It's either pay or don't fish," he said. "We don't have any more money to give."
Many fishermen question the necessity of the program given the regulations already in place and searches without warrants by the Coast Guard and unannounced inspections upon returning to port.
Goethel argues that on-board monitors don't effectively deter unlawful activity.
"The fish off New England have suffered several declines in the last 100 years. I don't think any fisherman would say we don't need management -- what fishermen would say is we need rational management," said Goethel.
Some lawmakers have been vocal in their opposition to the monitor costs, including Sens. Elizabeth Warren, D-Mass., Susan Collins, R-Maine, and Kelly Ayotte, R-N.H., who has questioned NOAA's claim that it does not have the funds to continue paying for the monitors.
"NOAA's at-sea monitoring fees place an impossible burden on New Hampshire's small-boat fishermen and that is why I've consistently fought against these unfair fees and interference," Ayotte told FoxNews.com Wednesday.
"I continue to strongly believe that NOAA should fully fund its at-sea monitoring program," she said.