Dozens of passengers injured after New York City commuter train derails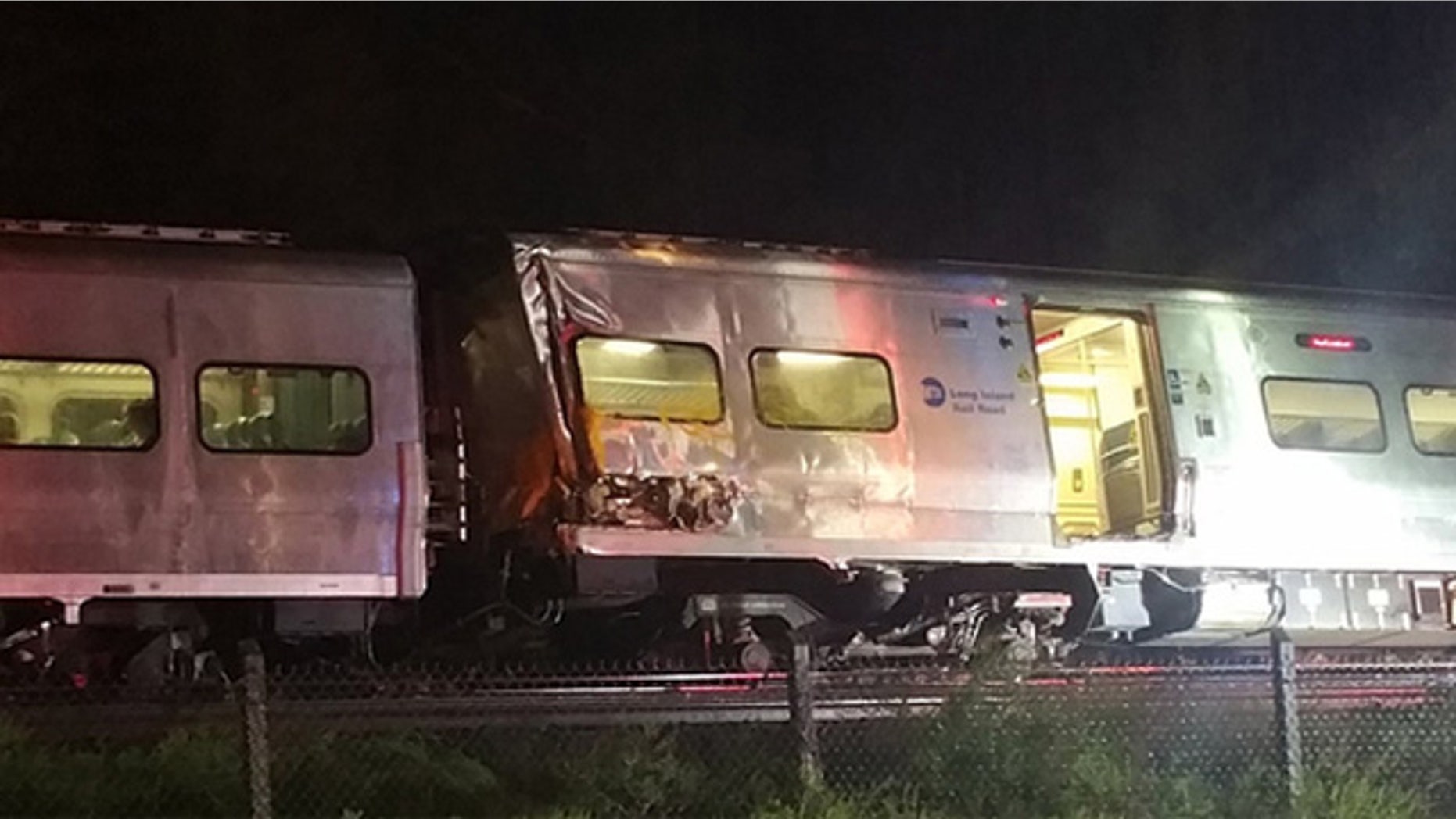 Several passengers on New York's Long Island Railroad were injured Saturday night after an eastbound train derailed when it struck a work train.
LIRR spokesman Sal Arena told the Associated Press that the first three cars of the 12-car train went off the tracks east of New Hyde Park, N.Y. shortly after 9 p.m. local time. He says the work train caught fire after the crash.
New York Gov. Andrew Cuomo tweeted early Sunday that 29 passengers were treated for injuries, with 11 transported to hospitals.
Nassau County Executive Ed Mangano told reporters the injuries ranged "from broken bones to lacerations to cuts." None of the injuries appeared to be life-threatening.
About 600 people were on the 8:22 p.m. train out of Penn Station train when it crashed, Cuomo said in a statement.

Metropolitan Transportation Authority Chairman Thomas Prendergast said a front car sideswiped the westbound work train, causing the second and third cars of the passenger train to derail.

"We were riding along and I heard a noise,'' passenger Lawrence Bialek told the New York Post. "It sounded like BAM! The train started to shake and then it stopped.
"I saw the car in front of me flip over. There were a lot of people screaming and crying and crawling out of the cars. I was just so scared."
Passenger Ray Martel, 41, of West Hempstead, N.Y. was heading home after spending the evening in New York City visiting friends.
Martel, who was in the first car, said when the train hit something "everyone gasped."
"We knew we hit something but we didn't know how bad it was," he told the Associated Press.
Train service in the area was suspended in both directions indefinitely.

The Federal Railroad Administration said it had investigators en route to the scene.

The derailment happened just over a week after a commuter train crashed into the terminal in Hoboken, N.J., killing one person and injuring more than 100. Federal investigators are still trying to determine the cause.

Long Island Rail Road trains have been involved in 72 accidents since Jan. 1, 2011, according to federal data, including 3 collisions and 15 derailments on tracks used for passenger service.
The Associated Press contributed to this report.