Dolphin torpedoes family's boat, leading to bloody encounter, injuries
The Southern California woman who suffered two broken ankles last week when a 350-pound dolphin torpedoed into her boat is expected to make a full recovery, but said the dolphin slammed into her out of nowhere.
"It was almost like it fell out of the sky," Chrissie Frickman said.
Frickman was boating in Southern California with her husband and two children June 21 when a pod of dolphins swam alongside them. One of the animals jumped on the vessel, knocking Frickman over and landing on her legs.
She didn't feel pain at first, and managed to walk to the front of the boat where she began to feel sharp pains in both ankles. She reportedly broke her ankles when she twisted them following the dolphin's impact.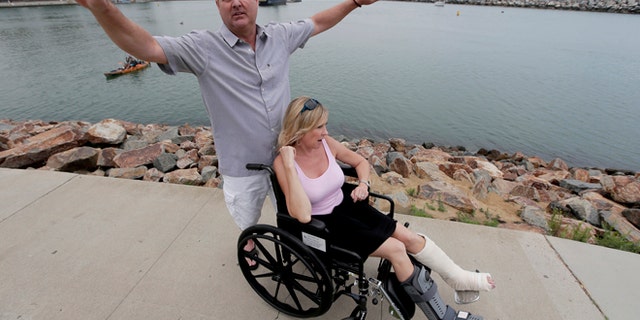 "The dolphin jumped and we thought it was doing a flip and I guess it miscalculated," said her husband, Dirk Frickman. "It came right onto my wife and flopped in the boat and knocked down and grazed my daughter."
"The dolphin was flopping all over," he said. "It cut its nose and its tail. Blood started splattering everywhere."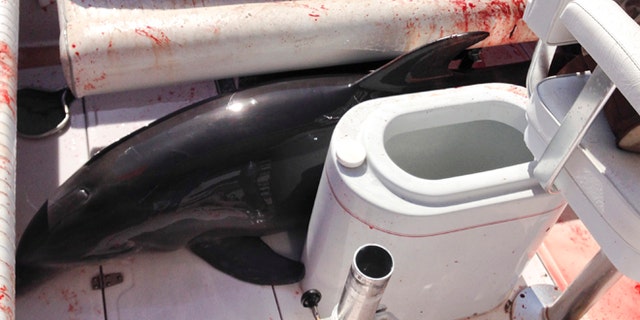 Frickman pulled his wife free and called authorities as he headed toward an Orange County harbor. While he steered, he splashed water on the 350-pound dolphin to keep it alive.
"I could hear my phone buzzing and beeping on the floor -- it was covered in blood," he told the Orange County Register.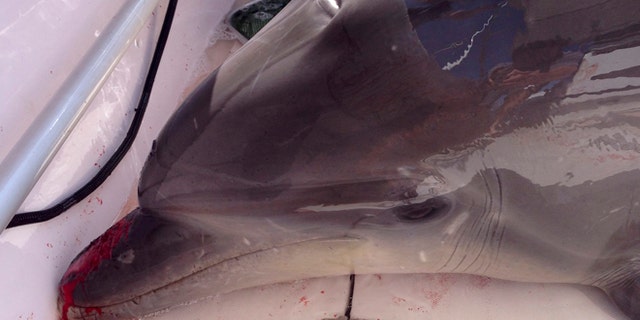 At the harbor, Frickman removed all the seats from the boat and got help pulling the dolphin onto the dock with a rope.
"We got her up on the dock and pushed her right back in the water," he said. "She was fine and took off pretty quick."
The Associated Press contributed to this report.