DeVos gives commencement speech amid protests in Baltimore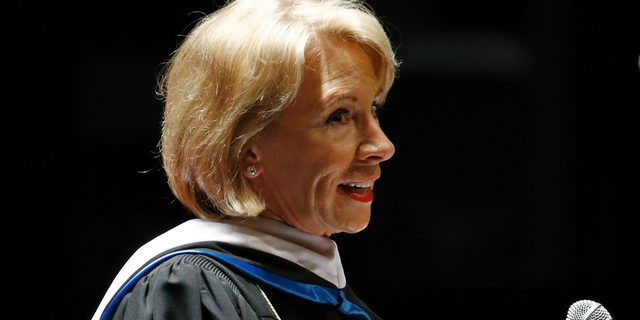 BALTIMORE – Department of Education Secretary Betsy DeVos took the stage at the University of Baltimore on Monday to a mix of boos and applause and argued for student-centered policies as dozens turned their backs in silent protest of her commencement address.
Some students and faculty criticized the decision to honor DeVos at the public university. Graduate student Kerrin Smith, 26, said DeVos and President Donald Trump have overseen a "strangling of public education."
DeVos, who has spent decades promoting the use of vouchers and other methods to redirect public money into private schools, shared a few anecdotes about the graduates she had met, including several first-generation college students.
"You are a source of inspiration. You are the reason we are working to rethink how our country approaches education," DeVos said.
"We must stop suggesting there is only one, conventional path to success. In fact, there are many avenues to gain what individual students need or want: industry-recognized certificates, stackable credits, credentials and licensures, badges, micro-degrees, apprenticeships, two-year degrees, four-year degrees, advanced degrees . all of these are valid pursuits," she said.
Most of the people who turned their back on DeVos — graduating students and their relatives — are African-American.
William Pierre, who earned a bachelor of science degree on Monday, was one of two graduates who stood and raised a fist in protest. He said students were "very puzzled" by the decision by University of Baltimore President Kurt Schmoke, a former city mayor, to honor DeVos as speaker.
"He has a right to make that decision. And we have a right to protest that decision, and we exercised that right," Pierre said as he waited with fellow students to pick up his diploma.
Next to him in line, graduate Linda McKinley decided not to stand and protest, but said the appearance by DeVos "definitely put a damper" on her graduation.
The closest DeVos came to acknowledging the criticism was a call to listen with humility, rather than "join in the chorus of conflict," and then thoughtfully engage with those who disagree about "the real problems our country faces."
"Be considerate and careful in the exchange of ideas," she said. "Sometimes exchange requires raising your voice above the noise, but more often, it requires embracing the power of silence."
Before the ceremony, several dozen demonstrators protested across the street, among them faculty, LGBT activists, and a few students. Some carried signs with slogans such as "democracy needs public schools."
Associate Professor Debbie Kohl, who has tenure and was one of the few protesting faculty members who agreed to give their name to a reporter, said many of her colleagues believe DeVos "represents policies and standpoints that are antithetical to the job we do here for our students."
___
David McFadden on Twitter: www.twitter.com/dmcfadd