DeVos aims to restore due process for students accused of sex offenses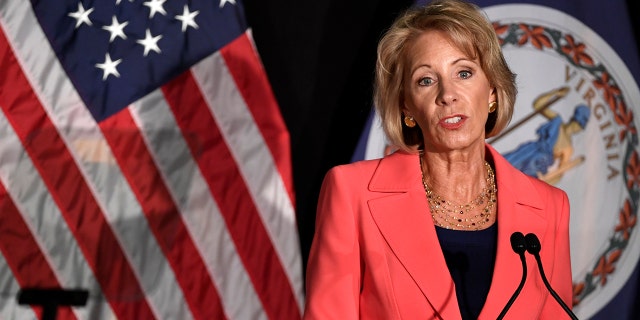 NEWYou can now listen to Fox News articles!
Education Secretary Betsy DeVos' widely discussed speech last week on college sex assault accusations – hailed by some and panned by others – came after she noticed a growing number of those accused being dragged through the mud without due process.
At a speech at George Mason University law school students last week, DeVos said her department was overhauling existing Title IX policies on how universities and colleges must handle sex assault accusations with the aim to protect both those who are assaulted and those who are accused.
"Instead of working with schools," DeVos said, "the prior administration weaponized the Office for Civil Rights."
DeVos cited cases of students, nearly all male, who were expelled or otherwise punished after being accused of actions never proven – all because of the Obama administration's interpretation of the decades-old Title IX, which forbids sexual discrimination in education, resulted in accused students being deprived of due process.
Her speech did not detail how the department would change the policies, which were implemented in 2011. However, she said she will seek feedback from the public and universities on how to develop guidelines that would both protect students from sexual offenses as well as ensure the accused are not stripped of their rights.
DeVos was criticized online after her speech but even some liberals defended it. The publication Slate said the secretary of education was right that colleges trample on the right of the accused and USA Today agreed colleges were going too far.
DeVos cited numerous examples of accused students being deprived of their due process rights.
-- One student was just weeks away from graduating when he got a "campus-wide email," according to DeVos, describing the young man, a Navy veteran, as a "threat to the campus community." He was barred from the campus and denied information about the reasons for the school's move. A lawyer offered to submit a Freedom of Information request to the college, which resulted in the discovery that the student had been accused of sexual harassment. He was denied details of the allegation and attempted suicide.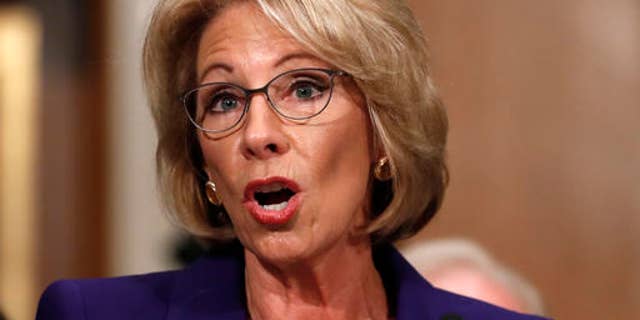 "Whatever your accusers say you are," DeVos quoted him as telling her, "is what people believe you are."
-- Another student taking a quiz did not know the answer to a question asking the name of the lab instructor. So he made up a name, "Sarah Jackson," which just happened to be the name of a model, something the student did not know. The instructor gave him a failing grade on the quiz. He was told that he had responded to the lab instructor's question with an "inappropriate" answer that seemed to intent on portraying the teacher as a sex object. Even though the school did not receive a formal complaint, administrators chose to launch an investigation against the man.
-- In California, an athlete and his girlfriend were playfully "roughhousing," but someone who observed the interaction reported it to university officials as an attack. Both the athlete and his girlfriend assured university officials that it was not an attack, but the school nonetheless stuck to their view of the incident as an attack, and dismissed the boyfriend from the football team and finally expelled him.
"When I told the truth," the young woman said, "I was stereotyped and was told I must be a 'battered' woman, and that made me feel demeaned and absurdly profiled."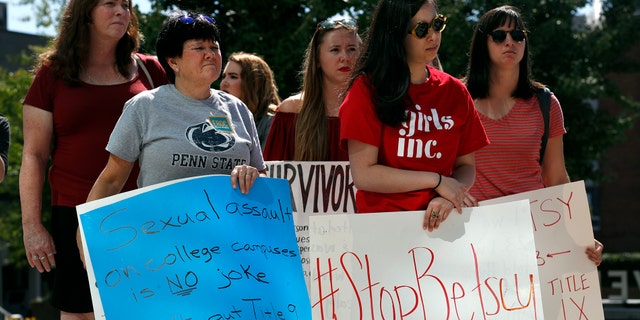 -- After a female student went through a painful breakup with her boyfriend, a female friend of hers offered to come over and provide comfort. After she arrived she made an unwanted sexual advance toward the student who had just broken up with her boyfriend. But when her advance was spurned by the heartbroken friend, the student who had come to support her friend filed a fallacious Title IX accusation against the female student.
The student who spurned her female friend's advance told DeVos that she had been sexually assaulted earlier in life, the secretary said.
"I've been on both sides of the issue, and on neither side did they get it right."
Students who challenge their treatment by school administrators have sometimes prevailed in court.
DeVos said that in one school, authorities punished a student who was accused of rape by another student. But because the school denied him due process, he sued the school, ultimately winning in court. As DeVos told it, "He walked free."