Detroit brothers gunned down in ambush attack inside home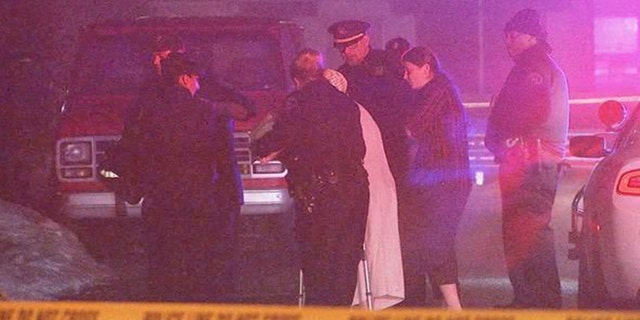 NEWYou can now listen to Fox News articles!
Detroit police were on the hunt for a pair of gunmen on Thursday after two brothers were shot and killed in an ambush attack that began when their family was unloading groceries in their driveway.
Police say a 75-year-old woman, her disabled son and a 25-year-old relative were emptying out their car around 12:30 a.m. at their home on Ashton Street when three armed men approached them and led them inside. Two brothers inside the house, ages 54 and 48, rushed over to help but were shot by the gunmen.
A family friend was then able to grab a gun and fired at the suspects as they fled the scene.
"The only thing I could do is shoot back at them," Thomas Anderson told Fox 2 Detroit. "I wish I would've got them."
Responding officers were able to capture one of the suspects but are still looking for the other two.
"We have no indication if they were hit or not at this time; we don't have any type of blood evidence or anything indicating they were hit," Detroit Police Capt. Darin Szilagy told Fox 2 Detroit. "We are looking and checking local hospitals."
Official descriptions of the suspects have not been released, although police say two of them were wearing ski masks and believe the aim was a home invasion. Police have not yet said if there was any relationship between the shooters and the victims.
The identities of the victims were not immediately available. They both died after being taken to a hospital.