Despite Hawaii evacuation orders, some residents on volcano's path refuse to leave
PAHOA, Hawaii – Shannon Malina moved to the Big Island in Hawaii two years ago with dreams of living a laid-back life. But the past three nights have been anything but paradise.
She was forced to evacuate her home because of a volcanic eruption spewing bubbling lava and swallowing up residential neighborhoods. She ended up at the Red Cross Shelter at the Pahoa Community Center, where she was issued a twin-sized cot and given water and sanitary supplies. She arrived wearing a pink and brown sundress, an ivory-colored knitted shawl, black boots and a tan and white hat.
About 72 hours later, she was still in the same clothes. She's unsure when she'd be able to return to her home in Pahoa.
Authorities have ordered nearly 2,000 residents to leave two communities in the mostly rural district of Puna on Hawaii's Big Island last Thursday. The evacuations became more urgent on Tuesday after the volcano opened two new vents.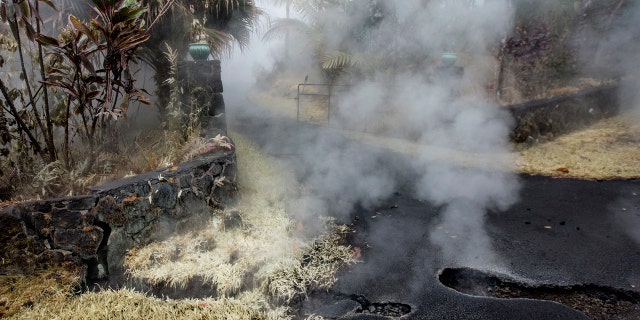 "The fumes at night weren't safe," she told Fox News. "It's like rotten eggs and beyond. I brought what I could from home which was basically this dress and a backpack."
Malina was near her home on Friday when a 5.4-magnitude earthquake and its follow-up 6.9-magnitude quake hit.
"It was like the earth just bubbled up in this huge wave and it kept rolling and you're standing still but everything else is moving in slow motion," she said.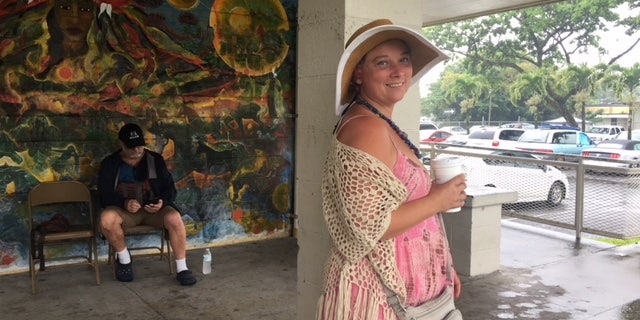 Many panicked.
"Some were running towards the water. Others were running to the coconut trees, but then the coconuts were falling and damaging cars," she said. "It felt like it lasted for two minutes. My vertigo was so intense that I actually didn't know when it stopped."
HAWAII VOLCANO TRIGGERS MORE EVACUATIONS AS 2 NEW VENTS APPEAR
Unlike Malina, some Hawaiians have refused to evacuate. They believe Pele, the goddess of fire and volcanoes, will save them from destruction – and they don't want to test her fate.
"I won't do it," resident Donald Lambert told Fox News over the telephone. "This is my home and if Mother Pele wants to come, let her come."
Stacey Watkins agrees.
"If it is time for Pele to come out, we must respect that," she told Fox News.
Malina said even though she went to the shelter, she understands why others want to stay.
"This is their home and that's all they know but also they trust Pele not to come take their space," Malina said.
Her friend, Raymond Das, is a holdout.
"He won't leave. He loves mother and he has been there for many, many years," she said. "That's his home. That's where he'll stay. He's not going to run away. He won't."
HAWAII VOLCANO ERUPTION SPEWS LAVA ACROSS BIG ISLAND: WHAT TO KNOW ABOUT FISSURES, EVACUATIONS AND MORE
Debra Weeks, director of disaster relief services in Hawaii County, said the situation is frustrating. In recent years the volcano has mostly released lava in hard-to-reach areas inside a national park or along the coastline. But last week, vents popped open and released lava, gas and steam inside residential neighborhoods.
She said lives are at stake.
"They're putting themselves at risk," Weeks said. "They're putting first responders at risk."
When the Hawaiian Volcano Observatory confirmed two new vents from Kilauea erupted, officials widened the evacuation order.
"All Lanipuna residents must evacuate now," the Hawaii Emergency Management Agency tweeted.
Officials said the two new volcanic vents are "actively erupting" and that "hazardous fumes continue to be released."
In all, 14 fissures have been reported around the Leilani Estates/Lanipuna Gardens area. Thick gooey lava has coated 104 acres on the island and decimated three dozen structures.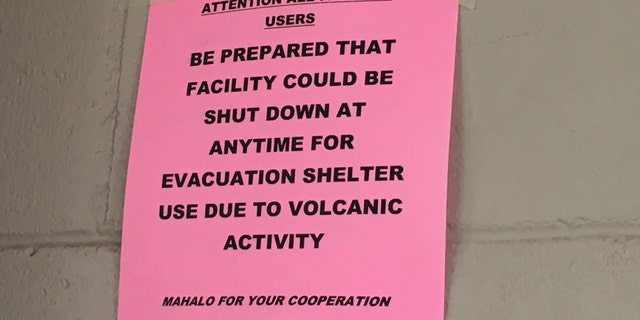 Laniupuna Gardens was already under an evacuation order, but some residents had been able to re-enter the area to retrieve personal items and check in on their properties.
"It's never a dull day," resident Nancy Williams told Fox News, after returning from dropping off items at the Red Cross shelter hours earlier.
The Associated Press contributed to this report.