Deputy's graphic Facebook post describing fight with suspect goes viral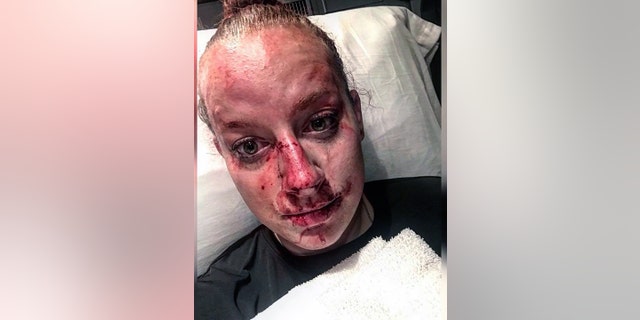 A West Virginia sheriff's deputy has posted a harrowing account of her fight with a suspect on Facebook in order to, as she puts it, to give "a swift kick in the ass to a lot of cops."
Brooke County Sheriff's Deputy Kristen Richmond and three of her colleagues were called to Bethany College early Friday to respond to a report of a man throwing things out a third-floor dorm window. After they arrived, Richmond encountered 21-year-old Brandon Jackson, whom she said "was gooned up on an unknown drug."
Richmond said she and Jackson fought for "about five minutes."
"During said altercation, my glasses were shattered and knocked off my face, none of my radio transmissions got out, and a ton of equipment was stripped from my vest and duty belt," wrote Richmond, who added that the suspect was not deterred by being partially handcuffed or being attacked by Richmond's K9 partner.
"He wasn't there. The drug had consumed every part of him," Richmond wrote.
At one point, Richmond said Jackson "reached for my duty weapon" and credited her training for not using deadly force against him.
"I've been beat to hell and back in training so I knew how to react and fight through being repeatedly being struck in the face and head," she wrote. "I didn't freak out ... I knew I was okay and still in the fight."
Jackson was taken in handcuffs to a local hospital before being transferred to a facility in Pittsburgh, Pa. It was not immediately clear Sunday whether charges had been filed against him.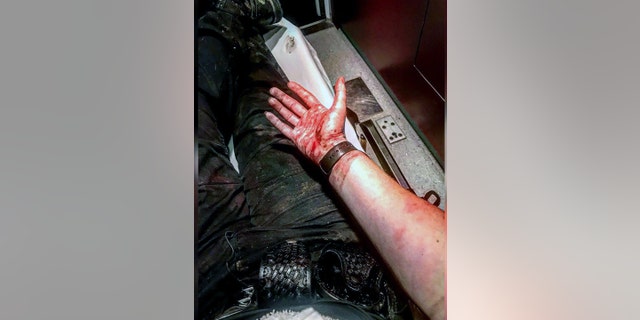 As for Richmond, she was treated for "a broken nose, a fractured sinus, and some other minor bumps and lacerations to my hands, face, and head."
Richmond wrote that the purpose of her post was to remind law enforcement officers to prepare for any situation and bond with their partners: "They're your family and when you find yourself in a dark corner at 0300 praying for backup, they're gonna be the ones who come running."
Finally, Richmond addressed those she called "friends, families and/or critics": "Please take a few moments to consider everything that we go through before jumping to conclusions based off slanted media and facts. At the end of the day, we are exactly like all of you 'normal' people. We just want to go home after work."
Richmond's post had been shared nearly 135,000 times as of Sunday afternoon.