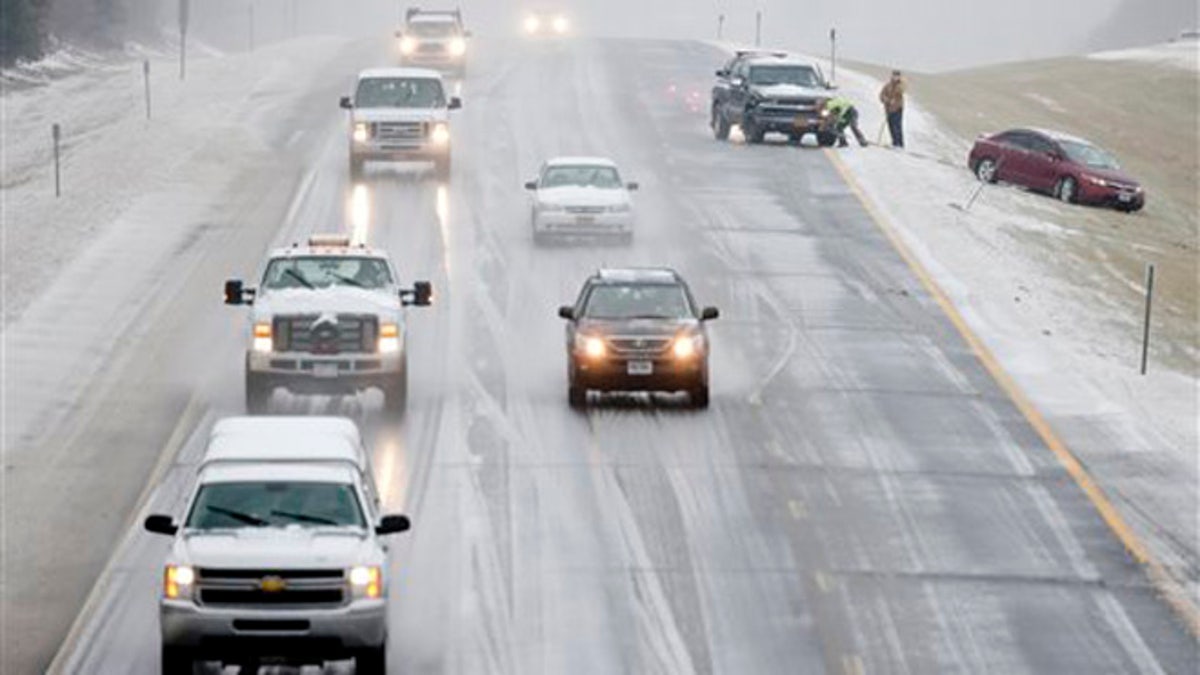 PORTLAND, Maine – Winter weather that spun off a series of deadly storms in the Midwest brought the season's first big punch to the Northeast on Tuesday, with snow, sleet and freezing rain greasing roads, sending drivers spinning and keeping people indoors amid sub-freezing temperatures.
Parts of northern New England had already about 6 inches of snow by early evening, and isolated areas could get 10 inches or more by the time it ends late in the day, according to the National Weather Service.
The weather made for a sloppy mess in parts of metro Boston, where memories linger of last winter's record-breaking snowfall. But as Fernando Gonterman waited for a train from Harvard Square to his job at Massachusetts General Hospital, he was unfazed.
"Weather is weather. Just deal with it, right?" he said.
In snow-loving Vermont, Chassidy Byrd, the assistant manager at a gas station and convenience store in Plainfield, said the storm returned the state to a sense of normal.
Without any snow, "it didn't feel like Vermont," she said.
Mike Kistner of the National Weather Service in Gray, Maine, said the storm that chilled the Northeast is linked to the same system that produced deadly tornadoes in the Midwest beginning Saturday, then brought heavy snow, ice, rain, flooding and blustery winds as it moved toward the Great Lakes. That storm system killed dozens, including many who drowned in floodwaters and others caught up in tornadoes.
Kistner said the northeastern spur of the system was tracking toward Cape Cod, Massachusetts, before it blows out to sea late Tuesday.
Forecasters said snowfall totals would range from an inch or less in parts of southern New England before turning over to rain and sleet, while northern regions would see more. In central and northern New York, 4 to 8 inches of snow was anticipated and police were investigating whether slick roads caused a crash overnight that killed a state corrections officer driving home from work.
The snow went a long way toward making up for a warm, snowless December in the Northeast where several spots are flirting with record warmth for the month. The temperature topped 60 degrees on Christmas Day in Maine, and normally, Portland would have seen more than a foot of snow by Tuesday, Kistner said.
There were no major traffic problems, but some vehicles got stuck in the mounting snow around rush hour. Traffic was mostly light because schools were closed for Christmas vacation and many businesses were closed.
Portland resident Aaron Lovely said he walked through the worst of the snow for about 20 minutes to get to his job at a downtown record store, which was mostly empty late Tuesday morning. He said the trek through the snow "wasn't the worst," and the winter's lack of weather so far was perhaps more unnerving.
"It was kind of weird that there wasn't snow until now," Lovely said. "It's about time."
Eric Janelle, of Weare, New Hampshire, was happy for the businesses that rely on the snow, but memories of last year's relentless onslaught tempered his enthusiasm.
"It's good that it's finally snowing here at the end of December, but on the other hand, it was so bad last year that it's nice to have a little bit of a break," he said.
A minute later, as he hopped over a pile of slush on Concord's Main Street, he shouted over his shoulder: "I sure didn't miss this!"