Deadly Flooding Hits Parts of East Coast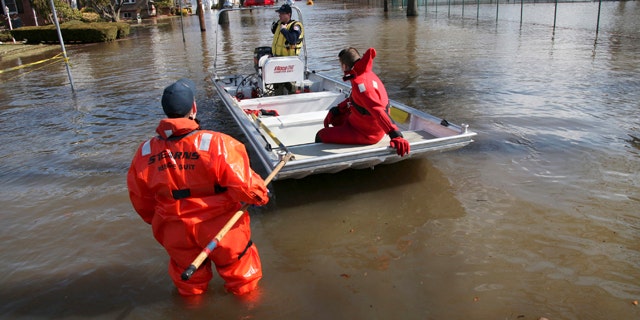 TRENTON, N.J. -- Hundreds of flood-weary East Coast residents were returning home Saturday, as rain-swollen rivers and other waterways were slowly receding to normal levels.
But officials say it might be a few more days before some people -- especially those in hard-hit areas of northern New Jersey -- will be able to get back home. And others may need to be evacuated if some major regional waterways crest as expected on Sunday morning.
"This is not a game. This is real. If you can, please seek higher ground now," Paterson Mayor Jeffery Jones told residents on Saturday, warning them that it could take at least two days for the Passaic River to completely recede.
Jones said he expects that roughly 1,500 residents will have to be evacuated from their homes on Sunday, and that shelters were being set up and six fire department rescue boats would be available to help residents if needed.
Jones was among dozens of officials from Maryland to Maine who were monitoring rivers, creeks and streams that had or were poised to overflow their banks, causing more hardships for communities where major flooding forced hundreds of people from their homes.
But by late Saturday afternoon, the only major problems areas appeared to be in portions of New Jersey, New York and Pennsylvania. And Mother Nature appeared to be giving the region a break: The National Weather Service said no major rains were expected there for several days, giving those areas a chance to dry out after the waterways drop back below flood levels.
But that provided little relief for evacuated residents who remained in shelters on Saturday, unsure of when they would be able to return home and how much damage the floods had caused.
"This is getting to be a regular occurrence, a greatly unwelcome regular occurrence," said Mary Beth Thompson of Little Falls, who was temporarily staying with friends in central New Jersey and checking television coverage and the Internet for weather updates. "This is my third time flooded out, and it seems to make me more anxious each time."
New York state from Manhattan to the Canadian border was under a flood watch as heavy rains and melting snow closed roads. And there were major concerns in New England that rising waters could break up river ice, creating ice jams that can cause flooding.
The Coast Guard said it started its springtime ice-breaking ritual Saturday on the Kennebec River, and will continue through Tuesday to reduce the risk of property damage.
Meanwhile, flooding along the rain-swollen Susquehanna River in northeastern Pennsylvania caused some road closures Saturday and sent water into some basements, but no serious problems were reported.
Police in Pittsburgh had set up detours for revelers coming into the city for Saturday morning's St. Patrick's Day parade. The detours were to help motorists avoid flooding in the low-lying sections of Interstate 376 along the Monongahela, though the waters had started receding by early Saturday afternoon.
The flooding was blamed for at least two deaths.