'Dancing' Georgia doctor is suspended by medical board for being a threat to public health, safety
A dermatologist who was seen on video dancing to a hip-hop song while performing a surgical procedure was suspended Thursday by the Georgia medical board, which reportedly said her continued practice "poses a threat to the public health, safety and welfare."
Dr. Windell Davis-Boutte is a dermatologist and director of Boutte Contour Surgery & Skin in Lilburn, Ga., a suburb of Atlanta. Davis-Boutte's website claims she has a "surgeon's hands" and a "woman's touch."
Latoyah Rideau, the patient who appears in one video and who is now planning to sue for pain and suffering, told the Times that Davis-Boutte should've been paying more attention to her work and less to dancing.
"I just wanted my butt a little rounder and smaller," she said.
Instead, her buttocks are now lopsided and her left side is continually itching, she told the Times.
"I can't live like this. It affects my relationship, it affects everything," Rideau said. "I'm very self-conscious."
Rideau will join nine other patients who have sued the doctor. They claim her practice left them disfigured, and, in one case, caused brain damage.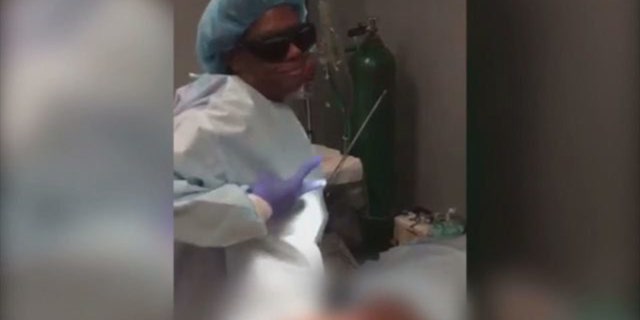 The Times reports that the Georgia Composite Medical Board said it "received reliable information" that a patient had been taken by ambulance to a hospital on May 31, one day after a liposuction, breast augmentation and a Brazilian butt-lift operation. The patient had a collapsed lung and suffered from anemia because of acute blood loss, the board said.
The patient remained in the hospital as of Wednesday. Davis-Boutte's treatment "failed to conform to the minimal standards of acceptable and prevailing medical practice," the board said, describing a "pattern of conduct" and citing unsatisfactory treatment for six other patients.
"Since the suspension, she's not able to comment at this time," a publicist for Davis-Boutte told the newspaper.
During an interview on HLN posted on Thursday, Davis-Boutte said, "I've done nothing wrong." She later added, "I'm a surgeon, I'm supposed to be able to multitask."
In one video viewed by the Times, Davis-Boutte dances to a song called "Cut It." As the song begins, her fingers roll of Rideau's skin and she moves them to the beat.
She then begins to slice the air with her scalpel, just inches from the patient's back. Then the video reportedly shows Davis-Boutte making incisions, her scalpel moving rhythmically. However, she pauses to wave the scalpel at the camera, the music continuing to play.
Davis-Boutte reportedly appears in 20 YouTube videos, all of which have since been taken down.
Susan Witt, a medical malpractice lawyer who is representing Rideau, said at least 100 people have come forward to complain about Davis-Boutte.
"I think they ultimately acted because of public pressure," Witt said. "It should not have had to come to this."