Damage, but no deaths after tornado strikes South Dakota town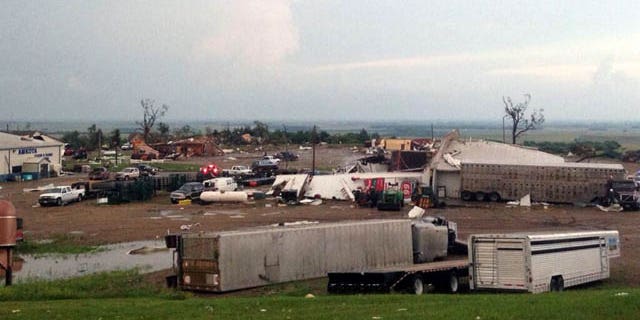 South Dakota officials say a tornado damaged homes, farms and businesses, but only caused one minor injury in a small town in the central part of the state Wednesday evening.
National Weather Service meteorologist Todd Heitkamp told the Associated Press that law enforcement in Wessington Springs reported that a tornado passed "through the heart of town" shortly before 8 p.m. local time.
Dedrich Koch, a county prosecutor who serves as a spokesman for the city during emergency operations, said late Wednesday night that everyone in town had been accounted for.
Koch said the tornado alarms in the city sounded several times and allowed residents to head to the city's emergency shelter that is located in the basement of the courthouse. He said three businesses were destroyed and 11 or 12 houses are inhabitable.
"Right now we are securing areas and keeping people from going in out the damaged areas," Koch said. "We'll assess damage and cleanup in the morning when we get some light."
South Dakota Gov. Dennis Daugaard tweeted that he had deployed 100 South Dakota National Guard soldiers and equipment to Wessington Springs.
Lindsey Meyers, spokeswoman for Avera Health, which operates the hospital in Wessington Springs, said one patient in good condition is being treated as a result of the tornado. Meyers said the hospital has some broken windows and is operating on backup power. The Argus Leader newspaper reported that power to the town had been shut off as a precautionary measure and that several power lines were down.
Confirmed tornadoes also touched down nearby, outside the towns of Woonsocket and Alpena. Woonsocket Mayor Lindy Peterson told the Argus Leader that he know of at least three families in Wessington Springs who had lost their homes, but his town only "just got some big drops of rain and some dark clouds."
Wessington Springs is located approximately 125 miles northwest of Sioux Falls, and has a population of 956 people, according to the 2010 census.
Click for more from the Argus Leader
The Associated Press contributed to this report.