Crews fighting California Holy Fire see containment progress, officials say
Crews battling the flames of the so-called Holy Fire tearing through Southern California are steadily making progress, as containment nearly tripled within a day, officials said Saturday.
Although it reached more than 21,000 acres, the blaze is now 29 percent contained, up drastically from just 10 percent on Friday, according to the Twitter account for the Cleveland National Forest (CNF).
Several areas in Lake Elsinore also had their evacuation orders lifted Saturday, specifically Horsethief Canyon, Rice Canyon and McVicker Canyon, the agency said. Some road closures remained, however.
ARSON SUSPECT CALLS CHARGES A 'LIE' AS CALIFORNIA'S HOLY FIRE GROWS
"The public is asked to use caution when re-entering the affected area," the CNF's tweet said. "Heavy equipment and firefighters will continue working in the area. Residents should stay alert and be prepared for changing conditions."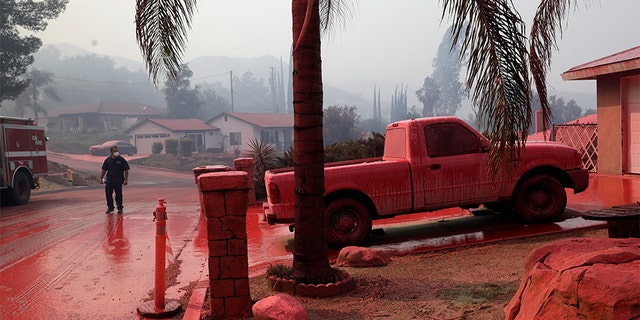 Aircraft have made several flights, dumping water and fire retardant to protect Lake Elsinore and other foothill communities as the flames sweep through the dense, bone-dry brush of the Cleveland National Forest. The Holy Fire began on Monday.
BATTLING 18 BLAZES, CALIFORNIA MAY FACE WORST FIRE SEASON
Authorities arrested a suspect earlier this week – Forrest Gordon Clark, 51 – he is accused of deliberately starting the fire. He appeared in court on Friday, although his arraignment was postponed, and he called his arson charge a "lie," The Orange County Register reported.
Clark also reportedly made several outbursts and claimed his life was being threatened.
Fox News' Amy Lieu and The Associated Press contributed to this report.