Cops may bring in cadaver dogs to search for possible remains of other children at Calif. 'house of horrors'
Homicide detectives could use cadaver dogs to sniff for the remains of other children in the suburban California "house of horrors," according to a report.
A week after 13 children, ages 2 to 29, were found living in deplorable conditions in the Riverside County home, detectives have been in "serious discussions" to use the canines to search the home for any unknown children who may have been buried there, according to the syndicated news show Crime Watch Daily.
Detectives also were in talks about using DNA tests to confirm whether all 13 children were related.
'HEALTHY' PUPPIES FOUND IN CALIFORNIA 'HOUSE OF HORRORS' UP FOR ADOPTION
An email Sunday from Fox News seeking comment from case investigators with the Riverside Sheriff's Office was not returned. Crime Watch Daily said the sheriff's office would not confirm its report.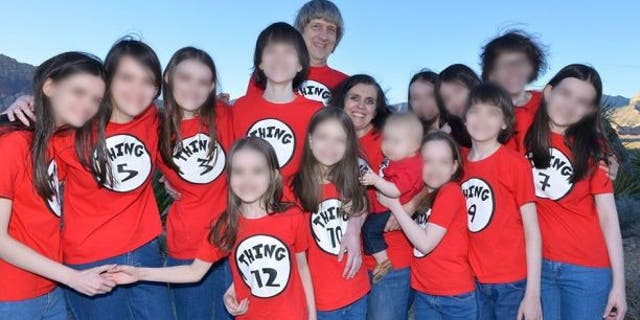 On Monday, a sheriff office spokesman responded, telling Fox News that investigators were not making any additional comments regarding the case. The spokesman said all inquiries should be made to the Riverside District Attorney's Office.
"We will not be confirming or denying any actions that may or may not be happening in this ongoing investigation," John Hall, a spokesman for the prosecutor's office told Fox News. "That preserves the integrity of our prosecution and insures both sides receive a fair trial."
The parents of the children are facing up to a life in prison after being charged Thursday with torture, child abuse and unlawful imprisonment.
Louise Anna Turpin, 49, and David Allen Turpin, 57, pleaded not guilty. Each was ordered held in lieu of $12 million bail.
"One of the children at age 12 is the weight of an average 7-year-old," Riverside District Attorney Michael Hestrin said. "The 29-year-old female victim weighs 82 pounds."
The Turpin's 17-year-old daughter escaped the home last Sunday and called 911, leading investigators to the residence.
PARENTS AT CALIFORNIA HOUSE OF HORRORS HAD 'GOD CALL ON THEM', FAMILY SAYS, AS DETAILS OF THEIR PAST EMERGE
Prosecutors said the girl had worked on her escape plan for two years.  One sibling came along with her, but then turned around out of fear.
The 12 oldest children showed signs of severe malnutrition, including stunted growth.
The children were being homeschooled but lacked even basic knowledge such as what a policeman is, investigators said.
Prosecutors said they didn't know what motivated the Turpins to torture the children in such squalid conditions. The parents were quoted as saying that "God called on them" to have such a large family.
Prosecutors have said that over the years the children were mistreated, beaten and taunted with food and toys they could look at but not have.