Conservative student's parting shot at college's anti-gun policies goes viral: 'Come and take it'
A conservative woman who recently graduated from Kent State University has received threats after she took aim at her school's anti-gun policies in a photo shoot where she carried an AR-10 and wore a cap that said, "Come and take it."
Kaitlin Bennett, a 22-year-old Second Amendment supporter from Zanesville, Ohio and founder of Liberty Hangout at Kent State, a student media outlet that promotes libertarian values, posed in front of the Kent Student Center for the tweet that has gone viral.
"Now that I graduated from @KentState, I can finally arm myself on campus. I should have been able to do so as a student – especially since 4 unarmed students were shot and killed by the government on this campus. #CampusCarryNow," she posted on Twitter Sunday.
Bennett told Fox News she wanted to condemn the school's "insulting" policies.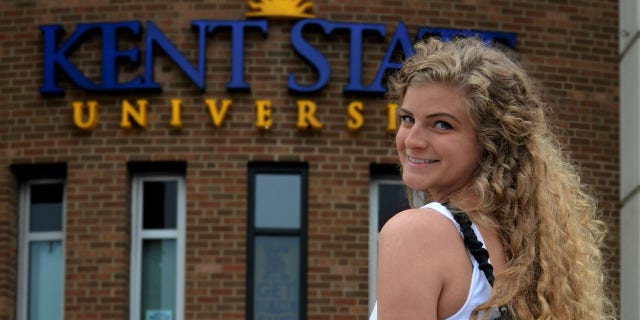 "I wanted to draw attention to the gun policies on campus that allow guests to open carry, but not students," she said. "I find it insulting that the school values the lives of their guests more than those attending the university for four years."
The university has a rule against students, faculty, and staff carrying "deadly weapons." But Kent State University spokesman Eric Mansfield told Fox News that because Bennett is no longer a student, she violated no policies.
"After graduation, she joined the ranks of our proud graduates," Mansfield said. "So at the time of this photo, she and other graduates would be permitted to open carry on our campus."
AT TOP 45 COLLEGES, NO CONSERVATIVES INVITED FOR COMMENCEMENT: REPORT
Mansfield noted that KSU has a full-time, certified police force of more than 30 sworn officers who protect the campus and the university was recently ranked the safest big college campus in Ohio and the 25th safest in the country, according to National Council for Home Safety and Security.
Bennett said even though she's received death threats because of her post, she has no regrets.
Bennett told "Fox & Friends" Thursday morning she was offered a job by Blue Target Firearms as a result of the media attention.
"I have no apologies for my graduation photos," she tweeted Tuesday. "As a woman, I refuse to be a victim & the second amendment ensures that I don't have to be."
In another tweet, she made it clear her gun is an AR-10 and not an "assault rifle" as many had claimed.
"Don't talk about gun control," Bennett wrote, "when you can't even get your facts straight."