Concealed handgun permits surging, blacks, women lead growth
Concealed handgun permits in the United States soared by 1.83 million since last July, setting a record for the fourth consecutive year, according to an analysis released Thursday.
That brings the total number of concealed handgun permit holders in the country to 16.3 million, with some of the biggest increases occurring among women and African-Americans, the Crime Prevention Research Center (CPRC) said.
Concealed handgun permits are now held by some more than 6 percent of American adults, the CPRC analysis found. Outside the restrictive states of California and New York, that figure rises to about 8 percent.
Concealed handgun permit holders are extremely law abiding, the analysis shows. The percent of permit holders who are charged or convicted of a felony has fallen: In 2015 it was 0.0123; in 2016 the percent was 0.0092 percent.
"In Florida and Texas, permit holders are convicted of misdemeanors and felonies at one-sixth of the rate at which police officers are convicted," the CPRC said in a statement.
In states that record gender data for permit holders, women account for 36 percent of the total number of permit holders. Eight states had data from 2012 to 2016 and they saw a 326 percent faster increase in permits among women than among men.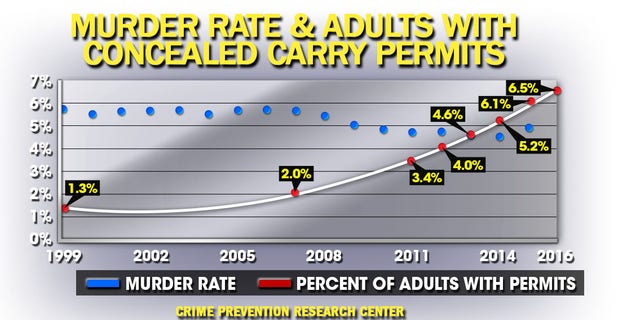 Records from states that keep statistics on race and concealed handgun permits showed that from 2012 to 2016, the number of blacks who have permits grew 30 percent faster than whites who have them.
Asians appear to be the group that has experienced the largest increase in permitted concealed carry permits.
"All states now allow concealed carry," CPRC President John Lott Jr. said. "And they are all issuing more permits. The longer that concealed carry laws have been in effect, the more time that people have had to apply for and receive permits."
The growth in the number of permits issued has been a constant through this century.
During the eight years from 1999 to 2007, the number of permits increased by about 240,000 annually. During the next four years, the number of permits surged by 850,000 annually. Then, in 2012 and 2013, the yearly increase accelerated to 1.5 million. Record increases after that: 1,690,000 in 2015, 1,730,000 in 2016, and 1,787,115 in 2017.
Some state and local authorities display what appears to be racist and sexist biases in deciding who gets concealed handgun permits.
As of 2012, Hispanics made up almost half the country, but they only got about 6.5 percent of the permits.
"There are also significant differences in not only the number of permits issued but also who gets them when politicians have discretion in granting them," Lott said. "Los Angeles County provides a vivid example of how women and Hispanics are given few permits when politicians decided who can defend themselves."
The CPRC analysis found that concealed handgun permits mushroomed during Barack Obama's administration, prompted by concerns that legally obtaining a weapon, large-capacity magazines or certain kinds of bullets would become more difficult. The number of permits grew to more than 16 million while Obama was president, marking a 256 percent increase since 2007.
But interest in obtaining permits has continued even after the election of President Donald Trump, the report said, contrary to the expectation of many experts that it would wane because of the Republican's support for gun ownership rights.
That coincides with growing support among Americans for the Second Amendment, which guarantees the right to "keep and bear arms," the authors said.
A 2012 study by the Pew Research Center, the authors noted, showed 48 percent of respondents saying that a gun "protected them from being crime victims," and 37 percent thought having one compromised safety. But only two years later, Pew found that the percentage of respondents who felt gun ownership was important to staying safe had climbed to 57 percent, while those who felt it did not contribute to safety stayed at about the same, at 38 percent.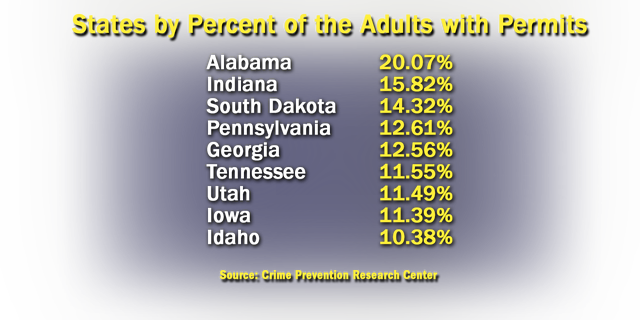 "People's interest in concealed carry has spiked in the wake of recent mass pubic shootings" in the nation as well as overseas, such in Paris, the report said.
All U.S. states, and Washington D.C., now allow concealed carry to varying degrees. But they vary widely in requirements addressing training, fees and background checks.