Columbia University Republican leaders 'doxed,' harassed by Antifa group
The leader of a College Republican group in New York City said he felt like there was "a target on my safety" after an Antifa group distributed pictures and personal information about all of the group's members, imploring opponents to let them know "what you think."
The flyers – spread online and littered around the Columbia University campus as early as Friday, ahead of an event with right-leaning political blogger Michael Cernovich – identified the board members of the Columbia University College Republicans student group.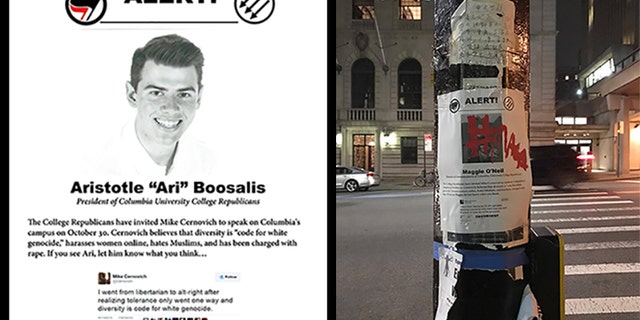 "It's crazy," Ari Boosalis, CUCR president, told Fox News on Tuesday. "It put a target on my safety."
A financial economics student at Columbia, Boosalis said the "doxing" – a practice of publishing personal information online, typically with a malicious intent – is just the latest string of harassment he has encountered this semester since it was announced that several right-leaning speakers had been invited to campus.
The harassment came via Twitter and LinkedIn and not only targeted Boosalis but also the other members of the CUCR board.
"I am the face of the [CUCR] and I can take whatever they say," he said. "You can slander me, you can attack me all you want, and I can take it."
He added: "But it's going to other board members in smaller roles. That's different level."
"I am the face of the [CUCR] and I can take whatever they say. You can slander me, you can attack me all you want, and I can take it."
Boosalis said once he and other board members were alerted to the flyers on campus and online, they filed formal harassment claims with the university. He added they are contemplating getting lawyers involved.
A Columbia University spokesperson told Fox News in an email that "student safety is our top priority."
NYC Anti-Fascist Action was identified as the group behind the posters. The group shared a video on its Facebook page showing members posting the flyers around campus.
Requests for comment from the group were not immediately returned.
Boosalis said he believes Columbia students are in the NYC Anti-Fascist Action group because some of the photos used to identify the board members were behind private Facebook accounts and weren't the members' profile pictures.
Columbia University has experienced its share of public protests after it opened its doors to right-leaning speakers this semester. Just this week, a group of students who disrupted a recent address by ex-English Defense League leader Tommy Robinson were banned from future CUCR events, the Columbia Spectator reported.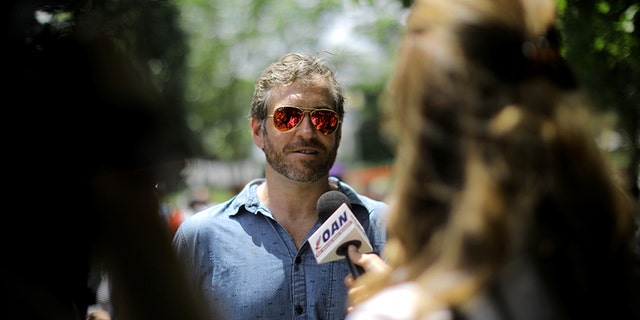 Boosalis said the protests and the harassment have not deterred him or his group from hosting Cernovich on Oct. 30. He said there is value to having speakers like him on campus as part of the ongoing freedom of speech conversation on college campuses across the country.
"We have gone to an age of hysteria that is stopping these conversations," he said. "I am not going to let these people make me feel unsafe."