Colorado police arrest suspect in case of missing 16-year-old girl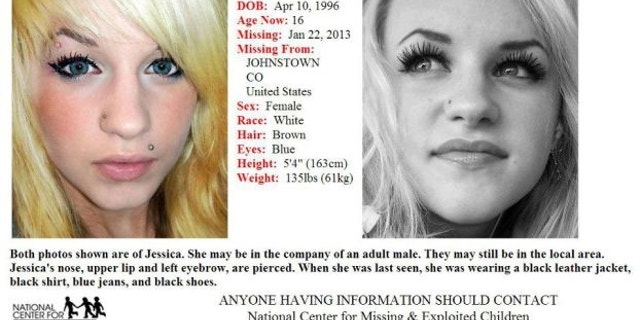 NEWYou can now listen to Fox News articles!
Colorado authorities have arrested a man suspected in the disappearance of a 16-year-old girl who reportedly sent a distress message to friends saying she was with a man and "scared."
Jessica Shepherd was found early Thursday morning after numerous tips sent to Johnstown police helped authorities pinpoint her location, Johnstown Police Chief Brian Phillips told KDVR. One of the tips police go was an address for a man called "Dave," who in turn gave police a second address where they were able to successfully locate the teen.
Phillips said they found Shepherd unharmed and that "she was coherent and cooperative."
After speaking with Shepherd, police arrested David Calderon. Police concluded that Calderon had "forcibly abducted" Shepherd and held her against her will.
Shepherd, of Johnstown, Colo., was last heard from at around 10:50 p.m. on Tuesday, Fox affiliate KDVR reported. Witnesses told investigators that the teen sent messages from her cellphone and Facebook account at that time, saying she was "with a guy named Dave" and "scared."
Police said the girl urged her friends in these messages to "call the police."
Anyone with information was asked to call police or the National Center for Missing & Exploited Children at 1-800-843-5678.
Calderon faces a number of charges including second degree kidnapping, false imprisonment, unlawful sexual contact, felony menacing, child abuse and assault in the third degree.
Click for more on this story from KDVR.com