College admissions scandal: Ex-Yale women's soccer coach pleads guilty to taking almost $1M in bribes
NEWYou can now listen to Fox News articles!
A former longtime women's soccer coach at Yale University pleaded guilty to wire fraud and conspiracy charges Thursday after he admitted he took almost $1 million in kickbacks from parents seeking to enroll their children in the Ivy League institution.
Rudolph "Rudy" Meredith, 51, appeared in federal court in Boston 16 days after prosecutors announced he was one of the dozens of parents, coaches and administrators charged in connection with a nationwide scandal in which investigators said parents paid admissions consultant Rick Singer to rig their children's test scores and bribe coaches at prominent colleges.
The government said it wanted Meredith to relinquish $865,000 as part of his plea.
COLLEGE ADMISSIONS SCANDAL SPARKS PROBE OF 8 SCHOOLS BY US EDUCATION DEPARTMENT
According to court documents, Meredith accepted an "athletic profile" for an applicant in late 2017 that described her as the co-captain of a prominent club soccer team in southern California. Meredith allegedly received around $400,000 from Singer, who had received $1.2 million from the applicant's family.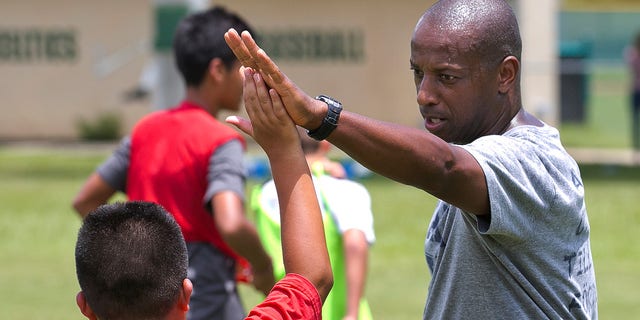 Meredith started cooperating with the FBI last year after investigators set up a sting in a Boston hotel room and caught him soliciting a $450,000 bribe from a parent. The federal investigation began after a financial executive under investigation for securities fraud told authorities that Meredith offered to designate the executive's daughter as a recruit in exchange for cash.
The executive gave Meredith $2,000 in cash in the hotel room, and another $4,000 was wired to Meredith from a bank account controlled by the FBI, according to court documents.
YALE RESCINDS ADMISSION OF STUDENT WHOSE PARENTS ALLEGEDLY PAID $1.2M IN COLLEGE ADMISSIONS SCANDAL
Meredith resigned in November after 24 years at the helm of the Yale women's soccer program. He stated at the time that he was stepping down to "explore new possibilities and begin a different chapter of my life," and was praised by the athletic director for his service.
Yale revealed Monday it's rescinded the admission of a student linked to the bribery scandal. The school has said it believed Meredith gave "fraudulent athletic endorsements" for only two applicants. The other was denied admission despite Meredith's endorsement, the school said.
CLICK HERE TO GET THE FOX NEWS APP
Others implicated in the scheme include Hollywood actresses Lori Loughlin and Felicity Huffman, as well as former Georgetown tennis coach Gordon Ernst, who once instructed former first lady Michelle Obama and her daughters.
Meredith is the third person to plead guilty in connection with the scandal. Singer pleaded guilty March 12 to charges including racketeering conspiracy, money-laundering conspiracy and obstruction of justice, while former Stanford University sailing coach John Vandemoer pleaded guilty to racketeering conspiracy on the same day. Twelve other defendants, including six former college athletic coaches and two test administrators, have pleaded not guilty to racketeering conspiracy charges.
The Associated Press contributed to this report.