Cold case suspect charged with murder of eight-year-old Indiana girl thanks to modern DNA technology breakthrough
FORT WAYNE, IND. – Wearing an orange and white jumpsuit with shackles around his wrists and ankles, 59-year-old John Miller sat in a Fort Wayne, Indiana, courtroom on Thursday, charged with the confinement, molestation and murder of eight-year-old April Tinsley.
"Burn in hell!" A Tinsley family member yelled to Miller from the court gallery.
It took 30 years to get to this point.
Upon learning that a suspect had been arrested, April's mother Janet Tinsley said: "It was like you got that chill feel goes from the top of your head down to your toes."
Tinsley's gruesome 1988 murder went unsolved and haunted this small Indiana community for decades.
Police said the girl had gone for a walk near her home and never came back. Her body was found in a ditch three days later.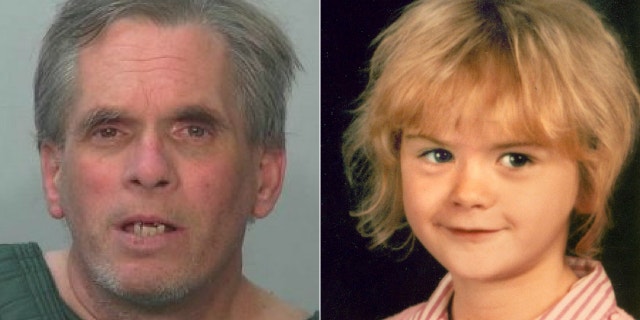 "All it took was one kid to walk home one night without adult supervision" said a shaken Nathan Beck, who has lived for more than a decade just down the block from Miller, along a row of trailer homes in nearby Grabill, Indiana.
Miller, who had a 'not guilty' plea automatically entered by the judge because a public defender needs to be assigned to him, often tried to connect with neighborhood children, according to Beck.
INDIANA MOM OF GIRL WHO WAS RAPED, MURDERED IN 1988 SAYS DEFENDANT DESERVES DEATH PENALTY
"When he was out on his porch he'd talk to kids and say 'Hi, you're pretty.' And stuff like that".
Over the years taunting notes were left around the area confessing to the crime and threatening to kill again.
The community was on edge.
Police had DNA evidence they believed came from Tinsley's killer but for decades they could not find a match.
That changed in 2015, when modern day technology called "snapshot DNA" was introduced. It took the DNA matching process a big step further.
POLICE WON'T SAY IF 1988 INDIANA COLD CASE SUSPECT LINKED TO 2017 DELPHI MURDERS OF TWO TEENAGE GIRLS
"'Snapshot' is looking at genetic content...it's looking at DNA for eye color, hair color, skin color, face shape and Ancestry" explained Steven Armentrout, CEO of Parabon NanoLabs, the Virginia based company that performed the DNA analysis for Fort Wayne Indiana police.
The snapshot DNA information found from the evidence in Tinsley's murder was then put into a public database that found the connection to Miller.
"This is a big win for law enforcement" said FBI agent Jim Keszei at a news conference Tuesday, adding that the case was solved through the "dogged determination of those who never gave up".
Law enforcement across the country has now been able to employ snapshot DNA and genetic genealogy to solve several decades old cold cases.
"It's a game changer" said an Indiana State police officer.
The Allen county Indiana Prosecutor Karen Richards warned anyone who thinks they got away with a crime because so much time has passed "I think this (Miller) case should tell them something different."
As technology continues to improve investigators are hopeful they'll be able to more quickly solve more crimes like the Tinsley murder.
And offer some closure to a heartbroken community like Fort Wayne.