Cold case murder suspect is inmate with spider web tattoo on face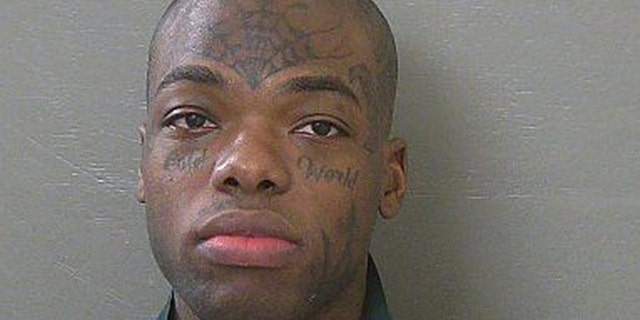 Florida authorities say they have solved a cold case murder with the arrest of an incarcerated drug dealer who sports a tattoo of a spider web on his forehead and a tattoo of the words "bold world" under his eyes.
Orlance Sangster, 27, has been accused of trying to rob another drug dealer of marijuana and then shooting and killing him when he resisted, the Pensacola News Journal reported Friday.
Investigators with the Escambia County Sheriff's Office found Damion Allen dead in the backseat of his car in a cul-de-sac where Sangster had allegedly ditched it after the killing, according to the paper.
The homicide turned into a cold case when no one was arrested for the murder.
The case was reopened in May when a prison snitch, serving time in an Arkansas federal prison, told investigators that in 2011 Sangster told him that he and an accomplice killed Allen, the paper reported.
The snitch said he had been told that Sangster and his cohort drove to meet Allen in a gold Nissan.
The investigators used the information to track down the accomplice, who is in prison, and learned that his mother owned a gold Nissan in 2010, the paper reported.
Investigators said they also found Sangster's DNA in Allen's vehicle, according to the paper.
Sangster is behind bars in a Florida prison on drug dealing charges. His sentence in that case runs until 2024, online records show.