Chicago train passenger sets fire during arrest in dramatic video
A dramatic video of the moment a passenger on a Chicago subway train set the car on fire while being arrested last month was released by authorities on Friday.
The incident happen on a Red Line train on Jan 18 in the city's Rogers Park neighborhood, according to the Chicago Tribune.
In the video the rider, identified by police as David M. Ferguson, is seated on the train holding his hands before arguing with an officer who walks through the train's open doors. Authorities had been called to the train station after the 28-year-old allegedly splashed paint thinner on another passenger, himself and several seats.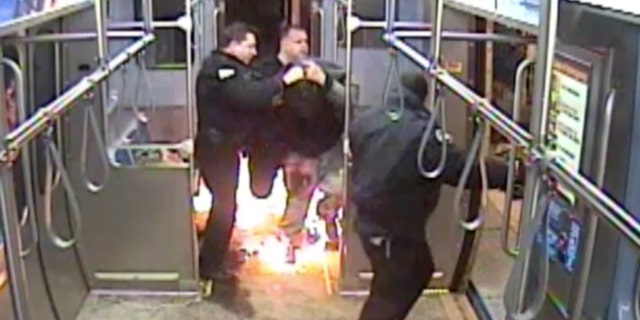 Ferguson is then seen approaching the officer, and the two begin to brawl before two additional police officers join in the confrontation.
That's when the 28-year-old lights a book bag on fire and the end of the subway erupts in flames as officers escort Ferguson off the train. Video shows the train car filling with thick, black smoke as the fire rages.
PASSENGER ON CHICAGO TRAIN GETS DOUSED WITH CHEMICALS
Ferguson was arrested and charged with aggravated arson and aggravated battery, according to court records obtained by the Chicago Sun-Times.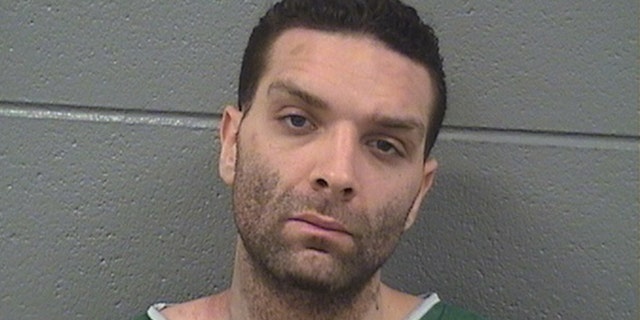 No passengers were injured in the incident, but a CTA employee was taken to a hospital after suffering from smoke inhalation.
Authorities told the Tribune the blaze caused about $10,000 in damage to the train car.