Chicago cop, 28, who 'ran toward danger,' was slain 1 month shy of 1st wedding anniversary
NEWYou can now listen to Fox News articles!
Officer Samuel Jimenez, the rookie Chicago cop who died in a shootout Monday night that left three others dead, including the suspect, always knew what he wanted to do with his life, his brother Antonio said Tuesday.
"Ever since we were little he always said he was going to be a firefighter or a cop," Antonio told the Chicago Sun-Times. "He wanted to be able to save lives and do something his kids could look up to."
Officer Jimenez, 28, responded to Mercy Hospital on the city's South Side, where a gunman reportedly had shot and killed his ex-fiancée in the parking lot before running inside the building, Chicago's FOX 32 reported. The gunman later shot Jimenez and a pharmacy resident as she was exiting an elevator.
Jimenez was taken to a hospital where he died from his injuries. The Chicago Police Department confirmed his death Monday evening.
"Today, we mourn Chicago Police Officer Samuel Jimenez. His heroic actions saved countless lives. He ran toward danger. He ran toward these shots. He ran into fire. Selflessly. Samuel Jimenez: altruism personified," the CPD tweeted.
Jimenez joined the Chicago Police Department in February 2017 and had recently completed his probationary period, Superintendent Eddie Johnson said.
The father of three would have celebrated his one-year wedding anniversary with his high school sweetheart next month, the Sun-Times reported. The couple were raising three children.
Colleagues who spoke to the Chicago Tribune said Jimenez was an exceptional officer who had a bright future ahead of him.
GUNMAN WHO FATALLY SHOT 3 AT HOSPITAL KILLED HIMSELF AFTER SHOT BY POLICE: REPORT
Jimenez "didn't let anything slip by," said Wentworth District Cmdr. Dion Boyd. "There was a call of a guy with a gun, and he and his partner, they were ready. … There was a short chase, but they apprehended the guy."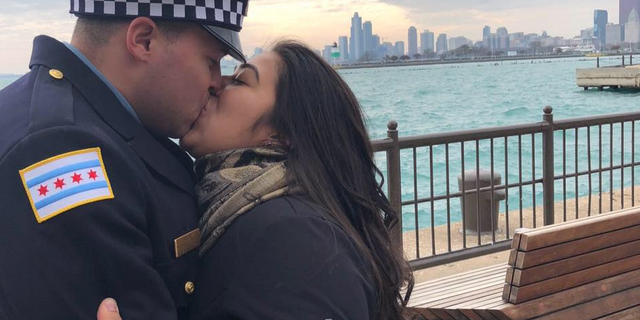 Community members described Jimenez as an attentive listener who genuinely cared about the people he was assigned to protect.
"He responded from … his heart, not his head," said Leonard McGee, a decades-long resident of the Gap and Bronzeville areas. "He walked in like, 'Hey, I am just like you. I am a person. I am human. I care about you and I care about the people in the community."
OFFICERS KILLED IN THE LINE OF DUTY IN 2018
Jimenez's fellow Chicago police academy recruits and supporters gathered Tuesday evening at the Firewater Saloon in Edison park to raise money for Jimenez's family, the Sun-Times reported.
Foreman High School, where Jimenez graduated 10 years ago, will hold a memorial for the fallen officer on Saturday at 10 a.m., WGN-TV reported.
Jimenez's death comes nine months after another member of the Chicago Police Department, Cmdr. Paul Bauer, was fatally shot while pursuing a suspect in the Loop business district.
The Associated Press contributed to this report.