Charter bus carrying high school students plunges into Alabama ravine; driver killed
A bus driver was killed and several other people were seriously injured Tuesday when a charter bus filled with high school students plunged into a 50-foot ravine in Alabama -- trapping dozens inside the mangled vehicle until rescuers could rappel down to free them.
The bus was returning to Houston, Texas, after a school trip around 5:30 a.m. when it crashed into a highway median on Interstate 10 and plunged into Cowpen Creek in Baldwin County, Sheriff Huey Hoss Mack said in a news conference.
The bus driver was pronounced dead at the scene. The bus was carrying around 45 people at the time, with about five of those being adults.
"Then there was a loud, really huge crash that was presumably when the bus finally came to a stop," said Frances Dodson-Benson, whose 15-year-old son DeWayne Benson was on the bus. "There were students on top of students, the bags, it was just a disarray, a lot of commotion, a lot of panic."
Chris Elliott, a Baldwin County commissioner, initially said there were "multiple injuries" in the crash.
"The fire department and officers are having to rappel down into the area to get into it," Elliott said.
More than a dozen fire departments from Alabama and Florida responded to the scene and worked to remove the trapped passengers — Channelview High School band students who were at Disney World in Florida — in the ravine. Several officers entered the ravine to pull students out of the wreckage, according to Mack. At least six helicopters were also used in the rescue efforts. Several people also had to be "cut out" of the wreckage.
The passengers were taken to 10 different local hospitals. One person was in critical condition and five others were seriously injured. Others suffered minor injuries, though the exact number of injured wasn't immediately clear.
The high school band posted a photo on its Facebook page with several members wearing Mickey Mouse ears outside of Disney World just hours before the crash.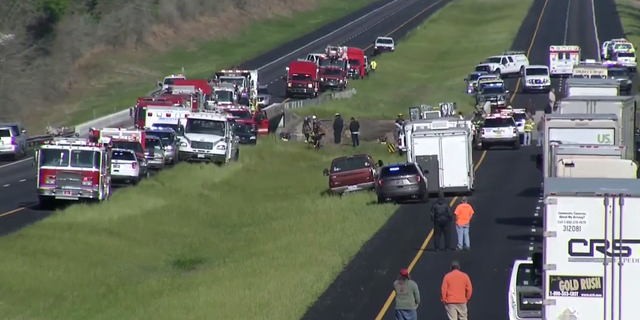 It's unclear what caused the bus to fall into the ravine. Another bus that was traveling with the vehicle was not involved in the crash and continued the drive to Texas.
First Class Tours, the bus company, said in a statement it was pledging its "assistance in cooperating with local authorities in the investigation," according to WKRG.
Texas Gov. Greg Abbott said he was "heartbroken" about the deadly bus crash.
"Cecilia and I are heartbroken by the news of this tragic accident, and we offer our prayers to all these young Texans and their families," Abbott said. "I pray for a speedy recovery for those injured, and I am especially grateful for the heroic actions of the Alabama first responders that undoubtedly helped save lives today. Texas is prepared to offer any assistance necessary as we rally around the entire Channelview High School community during this difficult time."
Interstate 10 was shut down in both directions after the incident. Police said the interstate will be closed for at least another two hours to remove the bus and investigate the incident.
The Associated Press contributed to this report.