Charlotte protesters take to streets in 4th night of demonstrations
NEWYou can now listen to Fox News articles!
DEVELOPING: A crowd of demonstrators briefly shut down Charlotte's Interstate 277 Friday evening as a fourth night of protests over the shooting of a black man by police unfolded.
An estimated 300 protesters took to the streets, leaving the freeway within a short time. Earlier Friday, they gathered at a park and then marched through Charlotte's business district.
One marcher carried a sign that said "Just Stop The Killing," while another had a banner that said "Just Release the Tapes." Protesters have sought the release of police footage of the shooting earlier this week of Keith Lamont Scott by a police officer.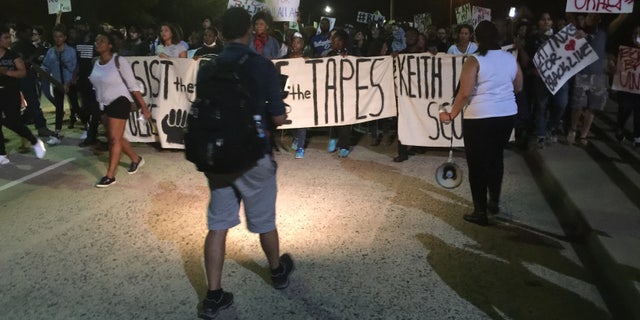 National Guard members posted in front of many downtown buildings watched the demonstrators marching.
Hillary Clinton's campaign announced Friday night the candidate would postpone a trip to Charlotte that had been planned for the coming weekend. "After further discussion with community leaders, we have decided to postpone Sunday's trip as to not impact the City's resources. She will plan to visit Charlotte next Sunday, provided circumstances allow," Communications Director Jennifer Palmieri said.
Three previous nights of protests included two that were chaotic, with more than a dozen officers wounded and one other person killed. But Thursday, people marched through downtown in a largely peaceful protest.
Police say Officer Brentley Vinson, who is also black, shot Scott because the man posed a threat. Some in Scott's family claimed he was merely holding a book, but police said he was refusing to drop a gun.
Relatives on Friday afternoon released cellphone video recorded by Scott's wife, with their attorney saying "people can draw their own conclusions" about his death. The video recorded by Rakeyia Scott does not show whether the man had a gun.
Charlotte-Mecklenburg Police Chief Kerr Putney says there is footage from at least one police body camera and one dashboard camera. He has so far declined to release that video.
Fox News' Donald Fair and The Associated Press contributed to this report.