Casey Anthony-Themed Dunking Booth Featured at Kentucky Fair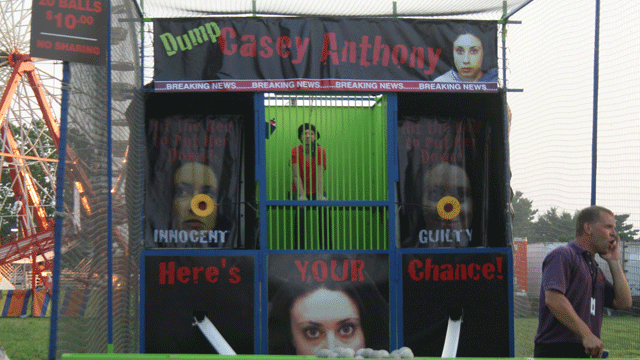 LEXINGTON, Ky. – Trial-watchers who were frustrated by the acquittal of Casey Anthony might go to a Kentucky fair this week where they can send an impersonator of the Florida mom into a dunk tank.
A day after Anthony, 25, was released from an Orlando jail, the Lexington Lions Club Bluegrass Fair rolled out an Anthony-themed dunking booth, featured at the forefront of its annual carnival games Monday.
Video footage from WKYT-TV shows a young woman dressed up like Anthony, wearing a long brown wig tied back into a ponytail and a bright pink T-shirt and jeans -- similar to the outfit Anthony wore when she walked out of jail. In the video, she sits on the seat suspended over the dunk tank as she heckles fair-goers who can choose whether to aim their balls at a "guilty" or "innocent" target.
"I wanna see some real men -- I've been in prison too long," the Anthony impersonator says to one ball-thrower before plunging into a pool of water. She taunts another, "You think I'm guilty?"
Fair organizer Michael Kaplan told the station, "We're hoping that it's taken in a fun way so that people coming out can release some of their frustrations about what just happened in the last few months and they can show their opinion." The booth will be at the fair until Sunday.
After a closely-watched six-week trial, Anthony was found not guilty on charges that she murdered her two-year-old daughter Caylee, evoking emotional responses from spectators convinced of her guilt.
When she was released from the Orange County Jail shortly after midnight Sunday, protesters on the perimeter could be heard screaming "killer" as she was whisked away in an SUV.
Anthony's whereabouts remain unknown to the public. It had been reported that she would likely wear disguises and live under an assumed name at a secret location after she was freed.