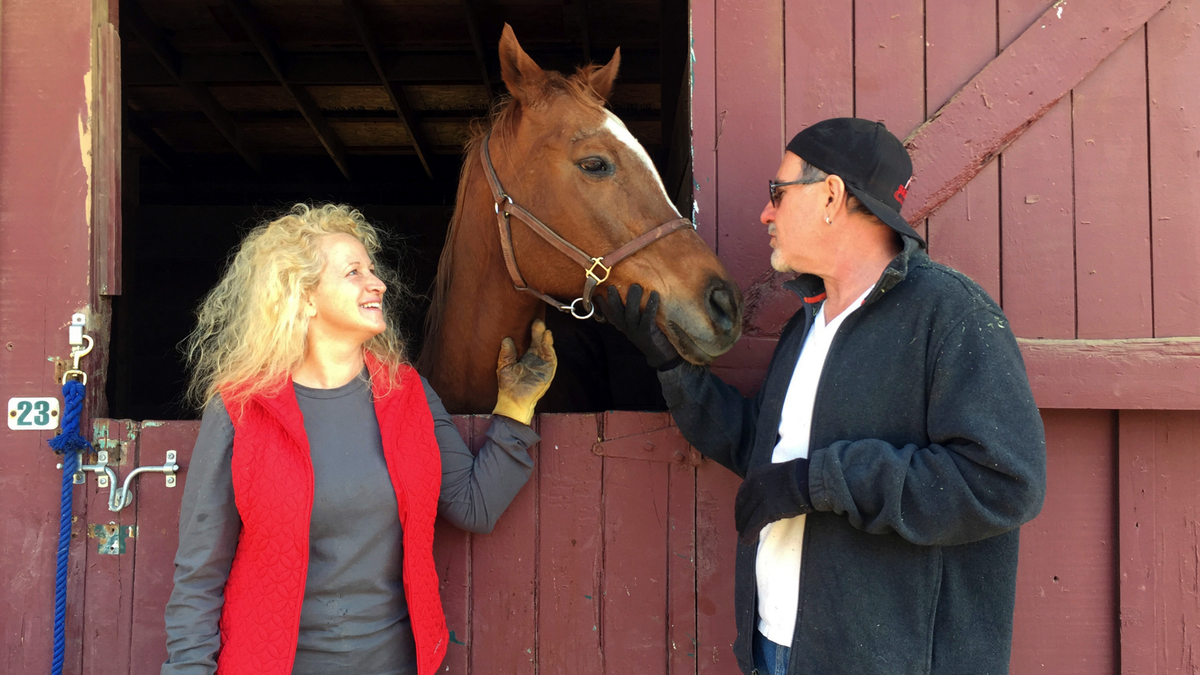 VENTURA, Calif. – They ran for their lives by the thousands when devastating wildfires raced across a huge swath of brush-covered Southern California hillsides, and they survived — even if in many cases their homes didn't.
Some lost everything. Others returned to find homes still standing but in danger a second time when flames that had seemed to spare them returned. Others told of driving through a wall of flames to safety.
Here are some of their stories:
___
Brian Bromberg and Wendy Frank had just saved their beloved horses from a raging wildfire for the second time when they experienced their own brush with death — for the third time.
The couple, who live in the mountainous artist colony of Ojai, had already escaped flames that had burned down neighbors' homes and had gone back to rescue their horses from a boarding facility when they were headed to a hotel in Santa Barbara.
Suddenly, they were confronted by a wall of flames lining both sides of a highway Wednesday night.
"I thought we were in a Schwarzenegger movie," Bromberg, 57, recalled at an evacuation shelter in Ventura on Thursday as he comforted his horses.
"Literally we drove through a 20-foot wall of flame and embers and blew through it. We must have been going 100 miles per hour," Bromberg said. "That was hot, and we were in the car and could feel it."
Earlier Wednesday, the couple of five years was sitting down for dinner when Frank decided to check on their four horses. The pair had just left them at a boarding facility 10 miles (16 kilometers) from their home, where they thought they would be safe.
"I just had a feeling, and I reached out to a man we know who lives close to where they were being housed, and he said, 'You need to get here right away, you need to get them out. The whole area is going to be engulfed by fire,'" she said.
The day before, Frank was on a business trip while Bromberg was home, using buckets of water to douse flames approaching their ranch.
"The house on the other side of us lost a barn and an outbuilding, the place on the other side of us — the whole property burned down, and the place behind us was a wall of flames, and I'm standing in the middle of this by myself with a bucket of water going to hotspots, pouring it out all day long and keeping the barn hosed with water," he said
Bromberg, a Grammy-nominated jazz musician, and Frank, a technology security expert at PricewaterhouseCoopers, say they don't plan to return to their house again until they are certain the area is out of danger.
"I feel blessed to be alive. Somebody is taking care of us," Bromberg said.
___
Tom and Pam Prinz had just reached a deal to sell their Ventura home and were planning to hand the keys over to the new owners last Monday.
The sale's closing was delayed at the last minute, however, and on Monday night the home where the couple raised their three children burned to the ground.
They had been planning for several years to move to the San Francisco Bay Area, where their children now live, and had just gotten their belongings out of the home.
"It's just crazy timing," their distraught daughter Chrissy Prinz said Thursday by phone from the Oakland home where she'll live in the granny flat behind her parents' new residence. "My dad just retired. We were supposed to turn over the keys the day of the fire."
Escrow was delayed when paperwork was filed late.
Now the couple is looking to collect on the insurance policy, which fortunately they kept in force through the day after the fire.
Their daughter said the insurance money likely won't be what they would have gotten from the sale, however, and she doesn't know when anyone will want to buy and rebuild on a lot located in a neighborhood filled with burned-down homes.
Growing up in the hills overlooking Ventura, she said, it wasn't uncommon to see water-dropping aircraft in the area, which is hit by wildfires every few years. But no flames had ever gotten close to her family's home before.
"Our house is in the middle of the tract. We never would have expected it to burn," she said.
___
Steve Andruszkewicz and his neighbor Joseph Ruffner returned to their Faria Beach Colony homes just north of Ventura on Thursday to discover the flames that appeared to have spared the houses were threatening them once again.
"I thought we were done yesterday," Ruffner said, adding he and his family returned to their home in the morning to see a wall of fire that seemed to be a safe distance away. But then it moved in, spraying hot embers onto the neighborhood.
"It's coming back to burn what it didn't burn yesterday," he said.
Firefighters urged people to leave the beachfront community, where electricity was out.
"We're leaving," Andruszkewicz said as he and his wife sprayed palm trees with water from garden hoses first.
Ruffner said he was staying put.
"I bought a generator yesterday so at least I can see on TV what's going on," he said.
___
Marolyn Romero-Sim wept as she sat on a cot at an evacuation center recounting how the modest RV her family called home was destroyed by the largest and most destructive Southern California wildfire.
"Everything is ashes. Everything. We don't have a place to live. We lost stuff we can't get back," she said.
She said her husband, Hugo Romero-Rodriguez, was wracked with guilt that he couldn't get inside to rescue anything — including their beloved little dog, Coqueta. She was trapped in a crate inside when the vehicle erupted in flames. Romero-Rodriguez suffered cuts on his leg and hand and a burn on his arm trying to get inside to save Coqueta.
"He was sitting there in the driver's seat and he couldn't move," Romero-Sim said Wednesday, recalling how she, her husband and their 9-year-old daughter, Milagros, sat in their truck, watching the RV burn before finally realizing they had to flee their Ventura County neighborhood.
"He just kept watching and he feels so guilty that he couldn't save it," she continued. "I told him he did everything he could and he did what he had to save our lives."
Romero-Rodriguez makes a modest living as a jewelry salesman and he lost the pearls, earrings, bracelets and watches that made up his inventory.
___
Rogers reported from Los Angeles. Brian Skoloff in Ventura and Christopher Weber in Los Angeles contributed to this story.
___
For complete coverage of the California wildfires, click here: https://apnews.com/tag/Wildfires .