California wildfire victims aided through Red Cross, GoFundMe donations, more: How you can help
At least 31 people have died in wildfires raging at both ends of California -- as hundreds of people remain unaccounted for and thousands have been forced from their homes.
In Northern California, more than 6,700 buildings have been destroyed in the fire that obliterated Paradise. And in Malibu, a relentless blaze destroyed at least 370 structures, according to officials.
The death toll from the devastation in Paradise and the surrounding area has matched the mark for the deadliest single blaze in state history. All told, more 8,000 firefighters are battling wildfires that scorched more than 325 square miles of the state, with the flames feeding on dry brush and driven by winds that had a blowtorch effect.
Here's a look at several organizations helping those impacted by the fire and ways you, too, could help.
American Red Cross
The American Red Cross is providing various forms of relief for those impacted by the fires – from safely sheltering those who have been displaced to providing a way for people to communicate to their loved ones that they are safe. The nonprofit is asking for donations to continue to provide aid.
California Community Foundation
With its Wildlife Relief Fund, the California Community Foundation helps those who been displaced or lost their jobs because of the fires. It also provides mental health services, respiratory equipment and medical care.
CALIFORNIA CAMP FIRE JOINS LIST OF MOST DESTRUCTIVE BLAZES IN THE STATE
Los Angeles County Animal Care Foundation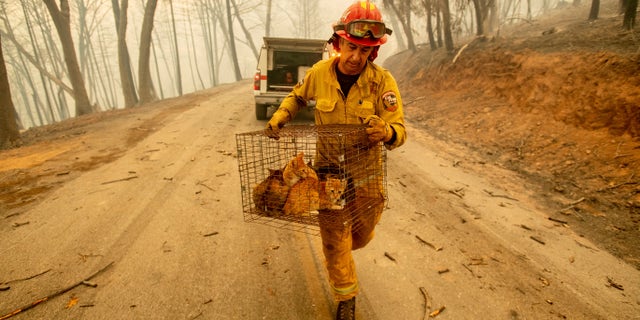 The Los Angeles County Animal Care Foundation offers myriad services to keep pets safe during natural disasters, including fires. It has trailers for pets whose owners have had to evacuate, and they are typically located near Red Cross shelters, according to the foundation.
It also helps to "evacuate and provide temporary sheltering for horses from fire zone areas," according to its website.
Housing
Those in the area – in safe locations – can sign up with Airbnb to open their homes to displaced Californians and relief workers for no charge.
"We encourage all of our hosts to communicate with their potential guests ahead of time to establish a relationship and make sure expectations are clear for everyone involved," Airbnb says. "We are incredibly proud that so many of our hosts offer to volunteer their homes to their fellow neighbors in need during times of disaster. All the same protections apply for our generous hosts who are offering their homes for free in times of disaster."
MILEY CYRUS AMONG CELEBRITIES TO LOSE HOMES IN CALIFORNIA WILDFIRES
Salvation Army
The Salvation Army is collecting non-perishable food to provide for people in Ventura County.
Aid for firefighters
People can donate directly to the Los Angeles Fire Department Foundation.
"We provide vital private funding for the LAFD where the city's budget ends," it says on its website.
The California Fire Foundation, too, provides "emotional and financial assistance to families of fallen firefighters, firefighters and the communities they protect."
North Valley Community Foundation
The North Valley Community Foundation has set up a fund to help "raise money to support the operations of organizations that are sheltering evacuees of the Camp Fire," according to its website.
GoFundMe
The fundraising website GoFundMe has created a hub of pages for people to peruse and donate to. It also encourages people to donate to the Direct Impact Fund, a nonprofit focused on helping people impacted by natural and manmade disasters.
Google
Search engine giant Google allows users to donate to wildfire relief online, as well.
The Associated Press contributed to this report.