California fire in Bel-Air traced to illegal cooking at homeless camp, officials say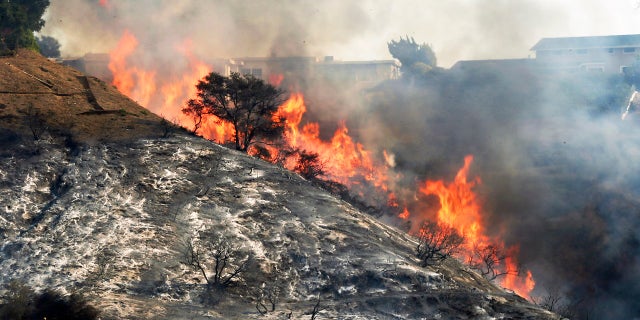 NEWYou can now listen to Fox News articles!
An illegal cooking fire at a homeless encampment sparked a wildfire in Bel-Air last week, authorities said Tuesday.
The Skirball fire erupted last Wednesday, burning more than 400 acres, destroying six structures and damaging 12 others. It is now 85 percent contained, with nearly 70 firefighters still working for full containment, officials told the Los Angeles Times.
Meanwhile, the Thomas fire, which has become the fifth-largest wildfire in California history, was still burning. The blaze has destroyed more than 800 structures, damaged over 180 others, while burning 236,000 acres, as of Tuesday, according to the Times.
A total of six fires flared in Southern California last week, driven by fierce winds.
The encampment was in a canyon several hundred feet from Interstate 405 and hidden from passing cars, the Times reported.
The fire was not deliberately set, investigators told the newspaper. They have not found any of the people who lived there, as the camp was largely destroyed, leaving officials with little evidence. The Los Angeles Fire Department found no suspects, and the size of the encampment before the fire was unclear, the report said.
The remnants of the site included a burned portable stove, pot, cheese grater, and fuel canisters, according to the newspaper. The camp was one of many makeshift communities that have developed along freeways, rivers and open spaces throughout Los Angeles.
Paul Koretz, a Los Angeles City Council member whose district includes Bel-Air, told the Times that this "makes a tragedy even more tragic."
"The saddest thing is that we have so many homeless people," he said. "And they are everywhere in the city. And that sometimes causes serious problems."
Humans are usually the cause of fires in Southern California, through sources such as car crashes, faulty farm equipment, cigarette butts or camping fires, officials told the Times.
Ninety percent of wildfires nationwide are human-caused, the Los Angeles Daily News reported, citing the National Park Service.
Causes were still undetermined for the Creek, Rye and Lilac fires, the Los Angeles Daily News reported.
The Associated Press contributed to this report.