California dog rescued after 15-foot fall into storm drain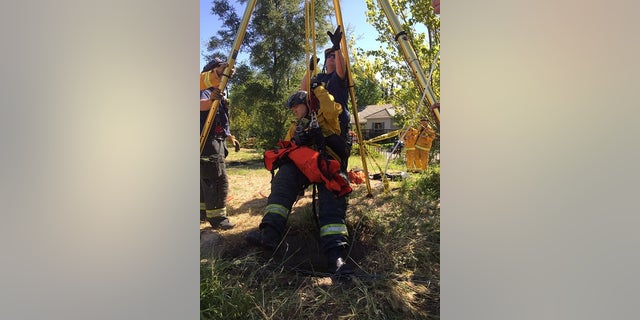 The Sacramento Fire Department rescued a dog Monday that fell 15 feet down a loose manhole cover and got trapped in a storm drain.
DOG RESCUED THREE DAYS AFTER HORRIFIC BOATING CRASH IN CALIFORNIA
More images from yesterday's rescue of Frank the dog who had fallen down a storm drain. Careful and coordinated effort by crews = dog saved! pic.twitter.com/Gs81Ka12aE

— Sacramento Fire (@SacFirePIO) May 2, 2017
The fire department shared a video on Facebook capturing the dramatic rescue. A rescuer was lowered into the drain to find the dog, Frank, and bring him back up, according to the description of the video.
After being lowered, the rescuer called and whistled out to Frank. The video cut to the dog and the rescuer being lifted out of the drain and on to the surface.
MAN JUMPS INTO FROZEN POND TO RESCUE HIS DOG WHEN IT FALLS THROUGH THIN ICE
Frank, with a wagging tail, gives the firefighters some attention and seems to nod his head in gratitude.
The dog suffered "a few scrapes and bruises" but is in good spirits, said the fire department.