California community rallies behind 13 victims in 'house of horrors' case
A display of flowers, balloons and stuffed animals is growing outside the California home of the 13 children alleged to have been shackled and tortured by their parents as their community is rallying behind the victims.
The children of David and Louise Turpin were starved and shackled to their beds, sometimes for months, prosecutors revealed Thursday. They were allegedly beaten and choked, given scant medical care, often denied use of a toilet and allowed to shower only once a year. They also lived mostly at night, out of sight of neighbors, and knew virtually nothing of the outside world, prosecutors added.
"For me, it's to show a little light in a dark tunnel," neighbor Wendy Martinez, who placed 13 heart-shaped balloons outside the Perris home – one for each of the children – told The Press-Enterprise. "Now they're free from the ugly life they were living."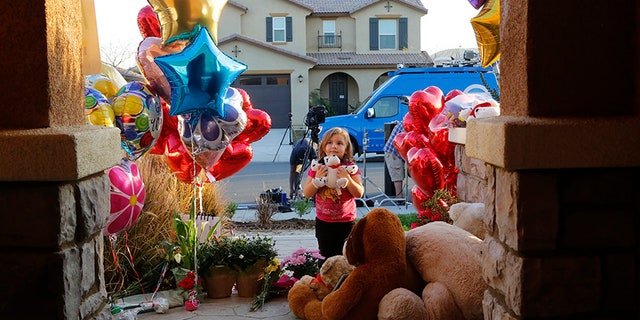 David Turpin, 56, and Louise Turpin, 49, pleaded not guilty Thursday to multiple counts of torture, child abuse, dependent adult abuse and false imprisonment. David Turpin also pleaded not guilty to performing a lewd act on a child under age 14. They were jailed on $12 million bail each.
Sharon Ontiveros, 63, stopped by the house with her 3-year old granddaughter, who left a stuffed animal with dozens of others on the front walkway.
"Sure, we're saying we should have known, but behind closed doors you don't know what's going on," she told the Associated Press.
As for the parents, she added: "They deserve no mercy whatsoever."
Prosecutors say the children range in age from 2 to 29. The torture and false imprisonment charges do not include the 2-year-old, who was not malnourished. All the children's names begin with the letter J, according to court documents that didn't provide their full names.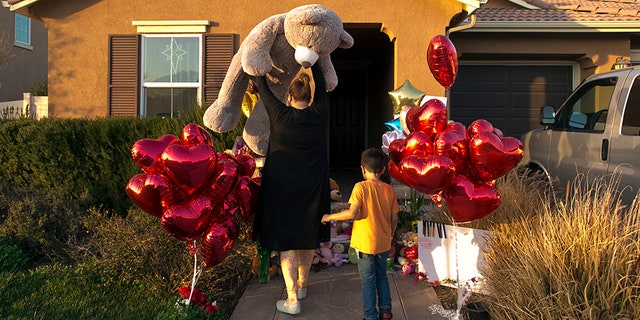 While the children were deprived of food, the Turpin parents ate well and even tormented the children by putting apple and pumpkin pies on the kitchen counter, but not letting them have any, Riverside County District Attorney Mike Hestrin said.
Similarly, the children were not allowed to play with toys, though many were found throughout the house — in their original packaging.
"This is depraved conduct," Hestrin said. "It breaks our hearts."
Jennifer Green, a former neighbor who visited the home on Thursday with her three children, told the Press-Enterprise that she would have done something "if we had known.
"We're trying to pull together to show we stand behind the children," she said.
Another mother standing outside the Turpin's home, Melissa Martinez, told the newspaper that it gave her the "chills" when looking at it.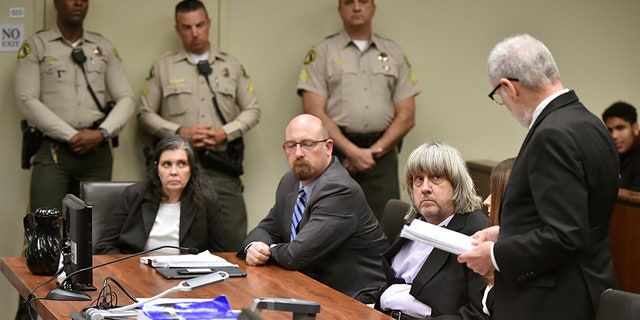 David Turpin's father, James, the children's' grandfather, said from his home in Princeton, West Virginia, that he did not believe the reports about the abuse.
"I'm going to talk with the children, find out the real story on this as soon as I can get a call through to them," James Turpin told The Associated Press.
David Turpin's lawyer, Deputy Public Defender David Macher, had only begun to investigate the allegations but said the case was going to be a challenge.
"It's a very serious case," he said. "Our clients are presumed to be innocent, and that is a very important presumption."
The Associated Press contributed to this report.