California college student claims pro-Trump message an act of 'violence'
A California college student who claimed to have found a pro-Donald Trump message scrawled on the whiteboard outside her dorm room last week was so shaken that someone nearby might support the GOP frontrunner that she alerted campus police, according to a report.
"This morning, a Mexican-American Scripps student woke up to find her whiteboard vandalized with the phrase '#Trump 2016,'" Minjoo Kim, student body president at Scripps College, wrote in a March 26 email blast to classmates, according to The College Fix.
Although the message was not derogatory, Kim claimed the unidentified student perceived it as such because of her ethnicity. Trump has vowed to crack down on illegal immigration if elected president.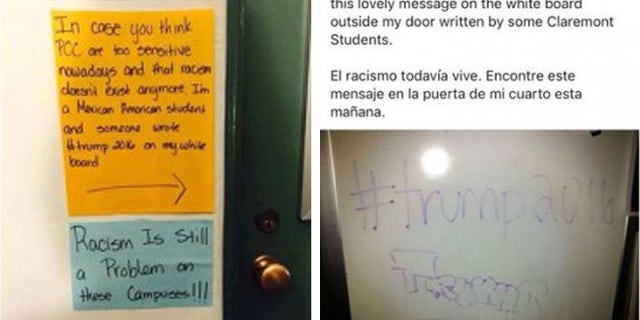 Kim said she alerted campus police to the "racist … violence" of the message, which simply read #trump2016."
"This racist act is completely unacceptable," Kim wrote. "Regardless of your political party, this intentional violence committed directly to a student of color proves to be another testament that racism continues to be an undeniable problem and alarming threat on our campuses."
Scripps College is an all-female part of the Claremont Colleges, a consortium of five undergraduate liberal arts colleges in Southern California.
Kim's email went on to say "campus safety has been notified and we hope to find the person responsible so they can be held accountable for their actions. … Mental and emotional health of our students are our top concern."
But after the memo went out accompanied by a screenshot, some posters claimed to notice penmanship similarities between the pro-Trump message and one the Mexican-American student wrote drawing attention to it. One social media poster wondered if the idea of accusing Trump supporters of racism simply for supporting the candidate was inspired by a much-publicized incident at Emory University earlier this month.
"@ScrippsCollege, are you trying to be the next Emory?!," tweeted Hannah Oh, a recent grad of Claremont McKenna College, also part of the consortium.
Students at the Atlanta school claimed to be in "pain" over numerous pro-Donald Trump "chalkings" found across campus recently.
"Minjoo's use of the word 'violence' is incorrect and only meant to incite anger and emotional responses from the student body," Oh told The College Fix. "It's ironic that she talks about how we need to hunt down whoever wrote #Trump2016 to hold them accountable for such unacceptable speech all in the name of creating an 'inclusive, safe, and welcoming' community. Scripps is probably the least welcoming campus for anyone who isn't far left or an ultra-third-wave feminist."