Bush family reacts to former first lady's death
Former first lady Barbara Bush passed away Tuesday at the age of 92, a spokesman for the Bush family confirmed.
"A former First Lady of the United States of America and relentless proponent of family literacy, Barbara Pierce Bush passed away Tuesday, April 17, 2018 at the age of 92," a statement from the office of George H.W. Bush said.
BARBARA BUSH, FORMER FIRST LADY, DEAD AT 92
"She is survived by her husband of 73 years, President George H. W. Bush; five children and their spouses; 17 grandchildren; seven great grandchildren; and her brother, Scott Pierce," the statement continued. "She was preceded in death by her second child, Pauline Robinson "Robin" Bush, and her siblings Martha Rafferty and James R. Pierce."
Funeral arrangements would be "announced as soon as is practical," the statement said.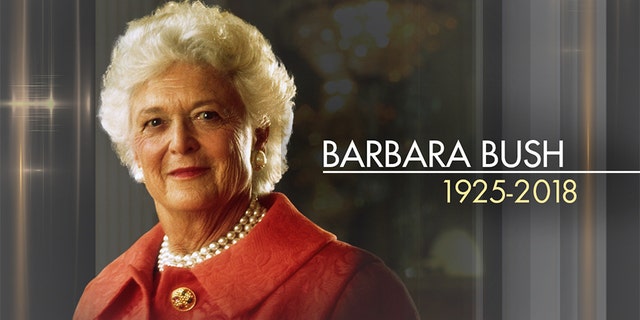 Read on for reactions from members of the Bush family.
Son and former President George W. Bush released a statement saying his "dear mother" had passed away and that the family would "miss her dearly."
"My dear mother has passed on at age 92. Laura, Barbara, Jenna, and I are sad, but our souls are settled because we know hers was," the statement said. "Barbara Bush was a fabulous First Lady and a woman unlike any other who brought levity, love, and literacy to millions. To us, she was so much more.
Bush said that his mother "kept us on our toes and kept us laughing until the end. I'm a lucky man that Barbara Bush was my mother. Our family will miss her dearly, and we thank you all for your prayers and good wishes."
Former Florida Governor Jeb Bush in a statement said that he is "exceptionally privileged to be the son of George Bush and the exceptionally gracious, gregarious, fun, funny, loving, tough, smart, graceful woman who was the force of nature known as Barbara Bush."
"Columba and I join every member of the Bush family in offering our sincere gratitude for the outpouring of love and support for my Mom in recent days, and throughout her remarkable life," he said. "Thank you for your prayers, and we look forward to celebrating and honoring her life and contributions to our family and great nation in the coming days."
Bush's grandson, George, tweeted, "My grandmother's entire life was focused on others. For my grandfather, she was his top adviser and confidante. For her family, she was a steady, loving and guiding hand. And for her country, she was an inspiration and an example for all."
"My grandmother didn't just live life; she lived it well," he continued. "And the sorrow of her loss is softened by the knowledge of her impact on our family and our country. I will miss you, Ganny—but know we will see you again."
Jeb Bush, Jr. tweeted "how lucky we are to have had Ganny in our lives!" The grandson of the former first lady said he believes she "would have wanted us to remember her by picking up a book and reading to our child, grandchild, or finding an opinion different then our own."
"I love her and miss her very much," Jr. tweeted. "She did it her way - with grace and class."
Jenna Bush Hager, granddaughter of Bush, wrote in an Instagram post that her grandmother was a "FORCE of a woman" who "was the glue that held our family together."
"She taught me to use my voice but also to value the opinions of others. She adored her friends and family; her loyalty was unwavering. Humor helps, she often said and it does, Gans, but I will miss your laugh terribly," Hager's post read. "She adored my Gampy, the first man she ever kissed; their love story is so engrained in the history of our family."