Buffalo police search for surgeon in fatal shooting at hospital, may be armed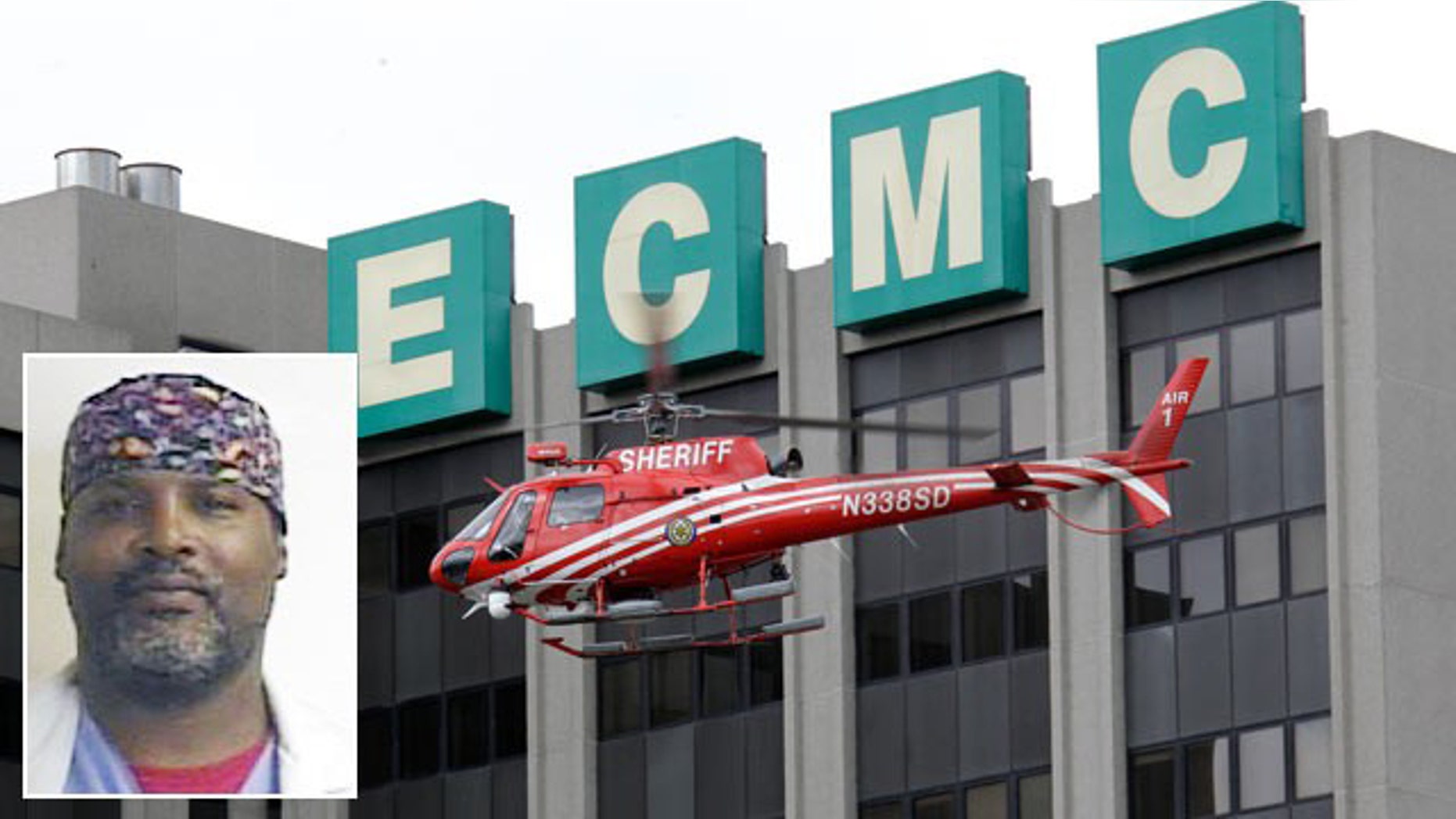 BUFFALO, N.Y. – A SWAT team and other officers sent a remote-controlled robot this afternoon into the upscale Lake View home of a trauma doctor wanted for questioning about a fatal shooting Wednesday morning at Eerie County Medical Center, police said.
Buffalo police are looking for Timothy Jorden, Jr., a trauma surgeon, who is a "person of interest" in the shooting. Police warn the former Army Special Forces weapons expert may be armed and dangerous.
Police had blocked road access to Jorden's home in an isolated area of private Lake View homes near the Lake Erie shore. As SWAT team members in camouflage arrived in unmarked SUVs, a helicopter flew over the house then left.
The Buffalo News reported that nine hours into a standoff at the house, police did not find the trauma doctor at home. Police say that Jorden is not in the house and remains at large.
Authorities identified the victim as 33-year-old Jacqueline Wisniewski, a receptionist at the hospital and the mother of a young son. Daniel Derenda, Buffalo police commissioner, said she was shot multiple times and believe the shooting was not a random attack. Media reports said she was the ex-girlfriend of the surgeon.
Heather Shipley, a friend of Wisniewski, told WIVB-TV that Wisniewski feared Jorden, her ex-boyfriend.
Wisniewski used to live with Jorden but left him because she believed he was having affairs with other women, Shipley said. When they broke up, he wouldn't let go, Shipley said.
She said Wisniewski told her the doctor had put a GPS tracking device in her car and once held her captive in her home for a day and a half, wielding a knife.
"She told me if anything happened to her, that it was him," Shipley told the station.
Police have described Jorden as a bald, black male, about 6-foot-2 and 250 pounds, who could be "special weapons trained."
Jorden, 49, treats patients at the medical center and area hospitals. He received his license to practice medicine in New York in 2002 and his certification from the American Board of Surgery in 2004. There are no legal actions against his license and he has no criminal background.
After a brief lockdown this morning, most of the hospital has reopened and is back to functioning as normal, police said. Authorities insist that patients and employees at the facility are safe. And as of Wednesday afternoon, police were still collecting evidence at the hospital.
"Things are well under control by Buffalo police" and other law enforcement agencies involved in the investigation, Mayor Byron Brown said. He said state police, Erie County sheriff's deputies and suburban police departments were assisting.
Police were given a photograph of the man and were showing it to people at various checkpoints. Information about four vehicles registered to Jorden was also handed out in attempts to locate him.
"It's a very sad day for ECMC and our community," said Jody Lomeo, the medical center's chief executive officer. "Our thoughts and prayers are with the victim."
At a news conference this evening, Lomeo said an internal investigation will take place and the hospital's security procedures will be reviewed.
Officials say the shooting occurred around 8:15 a.m. inside a building that houses outpatient services and offices. The building is adjacent to the hospital's main building. Counseling will be offered to employees.
A police helicopter had been circling over the medical center's campus, which includes a 550-bed hospital. Officials said as many as 400 patients and about half of the hospital's 2,000 employees were on the grounds at the time of the shooting.
According to a 1996 profile in The Buffalo News, Jorden is certified in advanced-trauma life support and has received numerous awards recognizing his relationships with patients, his teaching skills and his involvement in the community.
The News reports that he is a Buffalo native who joined the National Guard in high school, went into the Army after graduation and served with the Army's Special Forces, first as a weapons expert, then as a medic. In those roles, he served in the Caribbean, Japan and Korea.
The Associated Press contributed to this report.