Body believed to be missing North Carolina boy with autism found, FBI says
A body believed to be that of the missing North Carolina boy with autism was found Thursday, the FBI said, ending a nearly weeklong search for the 6-year-old who vanished in a park while with his father.
Maddox Ritch's body was located around 1 p.m. near Rankin Lake Park, where he was first reported missing by his father, Ian Ritch, on Saturday. A resident who lives in the area told FOX46 people asked authorities if they had searched a specific area near the park.
"With heavy hearts we announce a body believed to be 6-year-old Maddox Ritch was found at approximately 1 p.m. off of Marietta Street/Old Dallas Highway in Gastonia. Maddox's parents have been notified of the discovery. The investigation is ongoing," FBI Charlotte announced Thursday.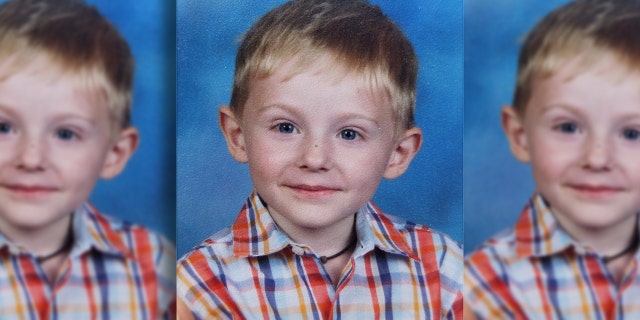 During an at-times emotional news conference on Thursday, Gastonia Police Chief Robert Helton told reporters that he was "heartbroken," and that "this is not the end that we'd hoped for."
Ritch said Maddox, who had nonverbal autism, ran ahead of him and disappeared from his view while they were in the park, about 20 miles west of Charlotte. Ritch was with another friend, who has not been identified.
"I'm not eating. I'm not sleeping," Ritch said at a Wednesday night news conference with Gastonia police and the FBI. "I'm just worried about getting my little boy back. I thought after the first night, he would be fine."
Maddox's mother, Carrie Ritch, had also pleaded for the safe return of her son.
"Maddox is my whole world and my reason for living," she tearfully said in a news conference.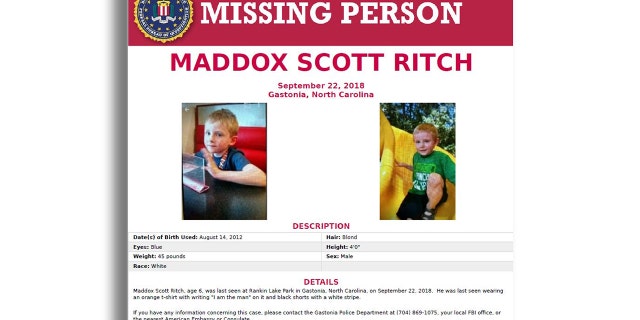 With news of the discovery, "the investigation is not over," Jason Kaplan, an FBI supervisory special agent, said during Thursday's news conference. He added that authorities are still looking to talk to potential witnesses from the day Maddox disappeared.
Unaswered questions that are part of the ongoing investigation include, "Where did he enter, how did he get there, what was the manner of death, what was the cause of death, was there any crime that was committed or are we simply looking at an accident?" Kaplan said.
"Those are very difficult questions to answer but they are questions that we will answer," he continued.
Hundreds of officials — consisting of the FBI and Gastonia police and fire — scavenged the park over the last six days looking for Maddox. The FBI offered a $10,000 reward for information, and on Thursday, officials expanded their search to include marshlands and woods nearby.
The FBI dive team was deployed Thursday to search the lake.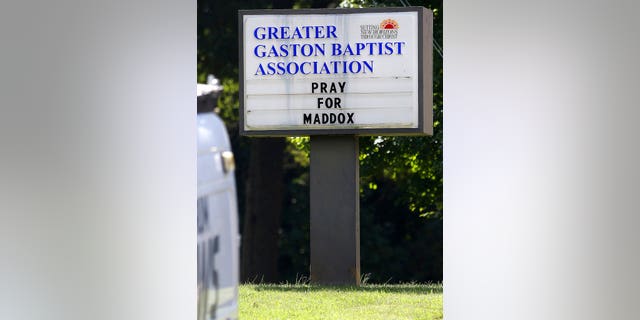 Searchers combed through the same areas multiple times and continued their efforts, considering the possiblity that Maddox "could've moved around," Gastonia Fire Department Chief Phil Welch said at the news conference.
MISSING NORTH CAROLINA BOY WITH AUTISM WASN'T SEEN AT PARK, WORKER WHO CALLED 911 SAYS
Police released on Wednesday the 911 call that was made after Maddox was reported missing. Park employee Rick Foxx is heard telling the dispatcher that Maddox's parents and officials "searched everywhere" for the child, FOX46 reported.
"The parents are out here looking," the park employee says.
Foxx also told CBS News on Wednesday that Ritch and his friend didn't seem concerned about the missing child.
"It didn't look as though, they were that concerned," Foxx told CBS News, referring to Ritch and the friend. "I've worked there almost three years and we see everybody come in and out of that park pretty much. I didn't see that kid one time."
Fox News' Elizabeth Zwirz contributed to this report.