Blizzard loosens grip on New England amid reported flooding
The blizzard of 2015 began to loosen its grip on New England late Tuesday, after dumping more than two feet of snow in parts of the region and flooding coastal areas.
A blizzard warning for Boston ended Tuesday evening as the snow tapered off, but one remained in effect for the south coast, Cape Cod and nearby islands. The Massachusetts Bay Transportation Authority said bus and rail service would resume Wednesday morning after being suspended all of Tuesday.
Boston Mayor Marty Walsh, however, extended a snow emergency for New England's largest city through Wednesday.
"The storm is not over," Walsh said, MyFoxBoston.com reported. "This is not the time to relax."
Flooding was reported along coastal areas, particularly in Plymouth County. In Marshfield, Mass., the storm punched out a 40-to-50-foot section of a seawall, badly damaging a vacant home. In Scituate, the Massachusetts Army National Guard dispatched two teams of trucks to assist with high-water rescues, The Boston Globe reported.
Downed wires had led to power outages in Scituate, and schools will be closed on Wednesday, the Globe added.
Paula Gates, who lives in Scituate, said the snow drifts are so high, her dog, a Samoyed who usually thrills at the chance to run in the snow, refused to leave the house this morning.
"It's been terrible," she told FoxNews.com. "The wind hasn't stopped."
New England also was dealing with bitter cold: The low in Boston on Wednesday is expected to be 10 degrees, with wind chill minus 5, and forecasters said it will not get above freezing for the next week or so.
Snow was still falling in the New England area Monday evening. Nearly 21 inches of snow coated Boston's Logan Airport by evening, while nearby Framingham had 2½ feet and Worcester 26 inches. Lunenburg reported 33 inches.
Providence, Rhode Island, had well over a foot of snow. Sixteen inches had piled up in Portland, Maine, and 23 inches in Waterford, Connecticut.
"The storm is not over. This is not the time to relax."
At least 30,000 homes and businesses were without power in the Boston-Cape Cod area, including the entire island of Nantucket.
A 78 mph wind gust was reported on Nantucket, and a 72 mph one on Martha's Vineyard.
Around New England, snowplows struggled to keep up, and Boston police drove several dozen doctors and nurses to work at hospitals. Snow blanketed Boston Common, and drifts piled up against historic Faneuil Hall, where Samuel Adams and the Sons of Liberty stoked the fires of rebellion.
Officials in Framingham said the Pilgrim nuclear power plant had been shut down due to storm, adding the plant can last on generators for about a week. They did not estimate when it would reopen, but said the goal was to get transmission lines back up as soon as possible.
Meanwhile, red-faced weathermen were explaining how their forecasts -- which had predicted up to 2 feet to blanket New York City -- were off by about 50 miles. Philadelphia, initially predicted to get about a foot of snow, got about an inch, New York City received just 8 inches, and New Jersey got up to 10 inches.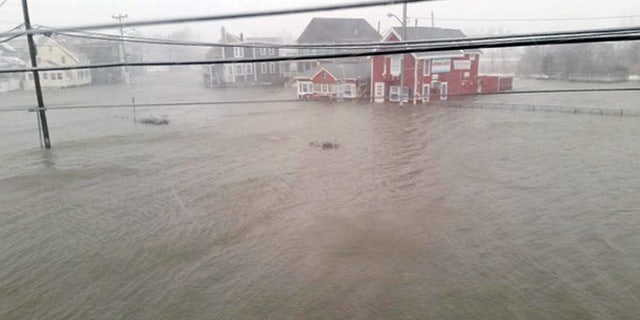 "The storm shifted," said Fox News Channel meteorologist Janice Dean. "When it comes to forecasting, we take all of these computer models into account."
By mid-morning Tuesday, roads in New York and New Jersey were opened and bus and train service, suspended overnight, had resumed, allowing workers to get to their jobs. Northeast Regional and Acela Express services were operating on a reduced schedule between New York and Washington, though Amtrak had suspended service north of New York and reduced its schedule for trains operating south of New York.
The snowstorm affected air traffic across the US. FlightAware reported that about 5,200 flights were canceled due to the storm, and more than 2,500 were delayed.
FoxNews.com's Edmund DeMarche and The Associated Press contributed to this report.