Black Lives Matter activists crash wedding of cop accused of fatally shooting Stephon Clark
Black Lives Matter activists filmed themselves crashing the wedding of one of the Sacramento police officers accused of fatally shooting Stephon Clark in March and then confronting him about how he sleeps at night.
The activists filmed themselves walking into a room, where a group of men were sitting at a table eating. One member of the group was heard asking the black man, presumed to be the officer, at the end of the table when he started planning his wedding. The officer was reportedly with his groomsmen at the time of the video.
Black Lives Matter has named the officer involved in Clark's shooting but the Sacramento Police Department has not.
"I was just wondering if you started planning your wedding before you killed Stephon Clark or after and how you've been sleeping since March 18. And I know this is supposed to be the happiest day of your life but he will not have that opportunity ever. So we came here to drink wine and also just ask how you've been sleeping," the person said before he was whisked away by someone at the table.
MOLLIE TIBBETTS' FATHER WARNS POSSIBLE ABDUCTOR NOT TO 'ESCALATE THIS ANY FURTHER'
"You're a murderer!" another person was heard yelling in the video before it ended.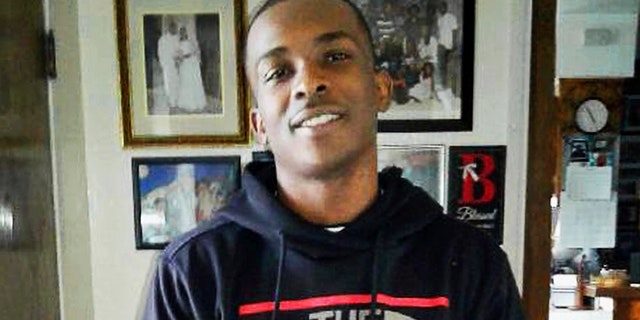 Clark, 22, died on March 18 after being shot by a police officer who responded to a call about someone breaking into cars. Police arrived at the scene and said they believed Clark was the suspect.
Clark ran when a police helicopter responded, then failed to obey officers' orders. Police officers said they thought Clark was holding a gun when he moved toward them, but he was found holding only a cellphone.
Tanya Faison, the founder of Sacramento Black Lives Matter, told CBS Sacramento that the officers "need to be approached in spaces where they're a little more vulnerable."
Black Lives Matter activists said when they heard where the officer's wedding would be held they planned the confrontation.
"We're not violent, we're not gonna give to them what they brought to our community, we're not gonna hurt anyone but we are gonna make them uncomfortable, and they should because someone is dead," said Faison.
KEY FIGURE IN STACY BURNS MURDER MYSTERY ARRESTED IN STABBING AT MASSACHUSETTS HOME
When CBS asked Faison if the tactic went a bit too far, she responded, "no, because he's gonna remember this day for the rest of his life."
The Sacramento Police Department said the two officers involved in the shooting have been assigned extra security. The officers have received death threats and "are not working in a patrol capacity."
"People may think that these officers are just going about their lives, but this is a very traumatic event for everyone," Sgt. Vance Chandler of the Sacramento Police Department said.
The shooting is under investigation.
Fox News' Frank Miles contributed to this report.