Billboard Campaign Puts Controversial Right-to-Die Group in the Spotlight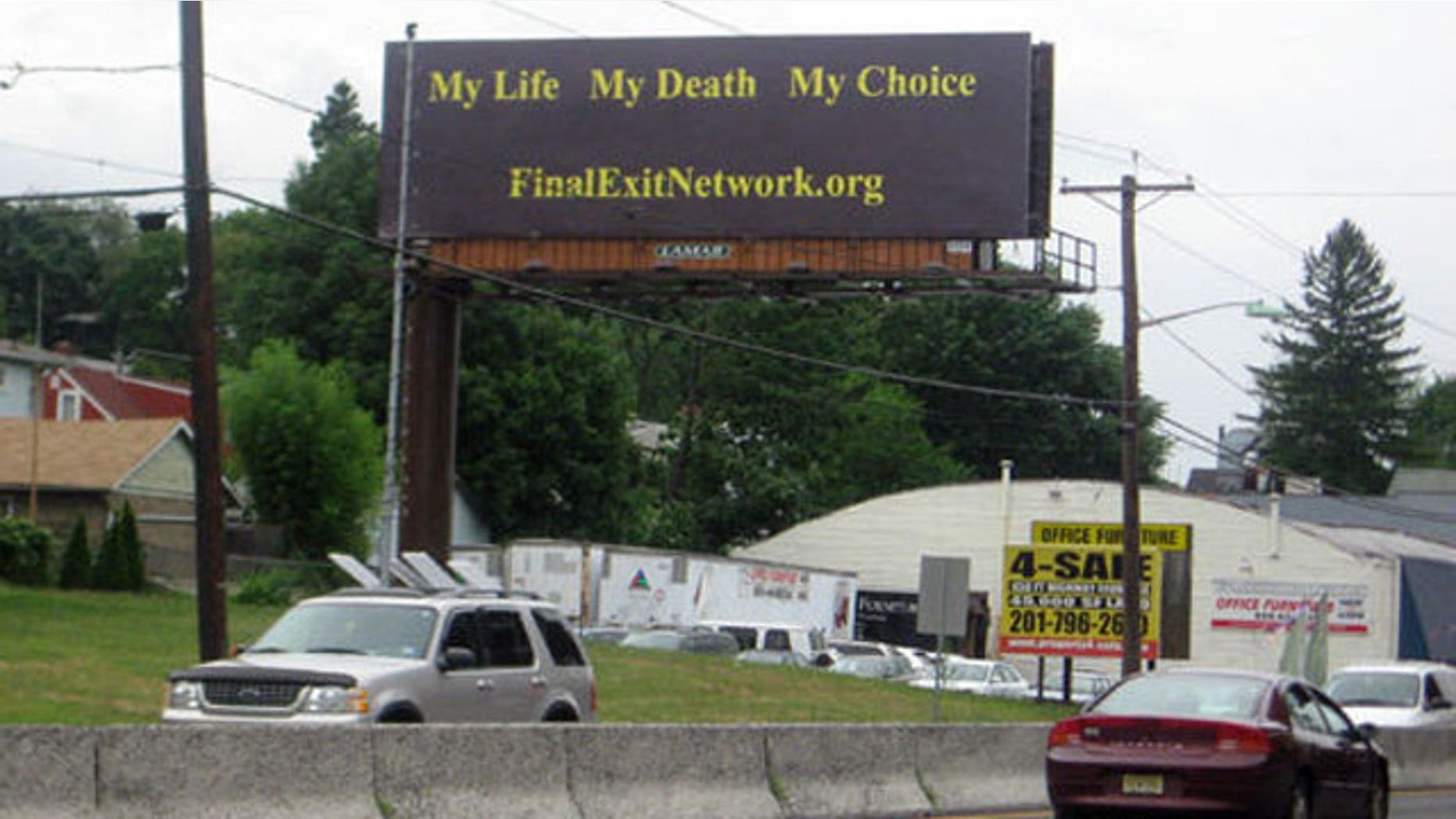 A national right-to-die organization has launched a controversial billboard campaign to inform terminally ill and elderly adults that they have a right to end their own lives -- but critics say the group is simply preying on vulnerable senior citizens and mentally unstable people.
The Georgia-based Final Exit Network says it provides a service for ailing people who want to die, giving them the information, materials and emotional support they need to commit suicide. But the group's detractors say its mission is immoral and dangerous -- and members of the group's leadership, as well as some volunteers, are facing criminal trials in two states on charges that include facilitation to commit manslaughter, conspiracy to commit manslaughter, assisted suicide, evidence-tampering and racketeering.
In a case in Georgia, four suspects in an assisted suicide could face more than two decades in prison for violating the federal RICO racketeering act.
Final Exit has placed billboards that read "My Life. My Death. My Choice. FinalExitNetwork.org" on highways near senior communities in San Francisco and Hillside, N.J. Another is planned for Florida.
The group's president, Dr. Jerry Dincin, says the locations were chosen because Final Exit has "strong membership numbers in those particular areas," -- particularly in Florida, which has a high elderly population. The average age of members is between 60 and 80 years old, he said.
"The chapters in these areas are very strong and funded the billboards," he told FoxNews.com. "They were put in place to get people more curious about our mission."
Final Exit says it provides people with information, resources and support -- it recommends suffocation by inhaling helium under an air-tight hood -- to end their own lives, but that its members do not physically help adults commit suicide.
Dincin said volunteers hold members' hands while they make the decision to end their own lives. He said he has been present at many of these suicides, and he described the experience as the most compassionate act he has ever witnessed or participated in. "Members are always so grateful and describe us as saints. It is a privilege to be involved in people's final moments," he told FoxNews.com.
But others say Final Exit's mission is unethical ... and illegal.
"The signs communicate a pro-suicide message that sends a dangerous message throughout society, including to people like the young who would not legally qualify for a lethal prescription," said Wesley J. Smith, a California-based bioethicist who opposes assisted suicide.
"I think they are trying to make themselves seem like an advocacy group rather than one in which some of its members engage in criminal suicide facilitation," he said.
Prevention counselors and the Catholic Church say the billboard campaign is "irresponsible."
A Catholic priest in Hillside, who asked not to be identified, reiterated the Church's stance on suicide, saying, "the Church is against any type of removal of life."
"I think in light of church teaching, the billboards are contrary to Christian thought that we must respect life and do not have the power to destroy it," he told FoxNews.com.
Suicide-prevention experts said Final Exit's billboards could prompt people contemplating suicide to go through with it.
The billboard campaign "is irresponsible and downright dangerous; it is the equivalent of handing a gun to someone who is suicidal," Lanny Berman, president of the International Association of Suicide Prevention, told The Bay Citizen newspaper in San Francisco. "This message, communicated to thousands of vulnerable individuals, suffering from psychic and/or physical pain that is treatable, invites a tragic and final solution to problems that most often can be solved with proper evaluation and treatment."
Stephen Drake, head research analyst at Not Dead Yet, a national disability rights group that opposes the legalization of assisted suicide, euthanasia and other forms of medical killing, said the reason for the billboards was clear to him:
"They want to see if they can increase their membership and gain some mainstream acceptance, and also because they are entangled in legal difficulties they need to pay for," he said.
Final Exit, he said, is "in a lot more trouble than they let on."
In fact, some are facing charges that could land them lengthy prison time.
Final Exit's medical director, former Doctors Without Borders physician Lawrence Egbert, the group's co-founder, Thomas Goodwin, and two volunteers were charged in Georgia last month with assisted suicide, evidence-tampering and racketeering in the death of John Celmer, 58, a cancer patient who committed suicide with their support.
Celmer's widow, Susan, said her husband's cancer was in remission in April 2008 when he contacted Final Exit to inquire about its "exit guide" services. She said a volunteer and Goodwin went to Celmer's home and helped him commit suicide by placing a hood over his head and holding his hands as he inhaled helium that was fed into the hood through a tube.
Authorities say the four also were involved in helping plan the suicide of an undercover state investigator who told them he had pancreatic cancer.
The filed affidavit states that the suspects never received the undercover cop's medical records, yet they still provided him with "exit guide" materials. It also explains that part of the exit process is that volunteer members will be present during the suicide and will hold down the hands of the individual committing suicide.
Drake questions whether the act of holding down someone's hands constitutes murder. "What if someone changed their mind last minute?" he asked.
Egbert, Goodwin and the two volunteers pleaded not guilty last week to charges that they operated a criminal enterprise that helped people die. If convicted, they could face five years in prison for assisting a suicide, three years for tampering with evidence and 20 years for violating the federal Racketeer Influenced and Corrupt Organizations (RICO) Act.
Final Exit says it helps only those who are suffering from intolerable medical circumstances and want to end their lives. The conditions listed on its website include cancer, ALS (Lou Gehrig's Disease), Alzheimer's, Huntington's, multiple sclerosis, muscular dystrophy, emphysema, congestive heart failure, stroke and AIDS.
But Final Exit members, including Egbert, also are alleged to have been involved in the 2007 death of an Arizona woman, Jana Van Voorhis, who suffered from a serious mental illness, not a debilitating physical illness.
Wye Hale-Rowe, then 79, and retired college professor Frank Langsner, who provided her guidance, as well as two other senior Final Exit officials -- Egbert and Roberta Massey -- were charged in the case that will go to trial next month.
Hale-Rowe pleaded guilty in January to facilitation to commit manslaughter, a felony. She struck a plea deal with county prosecutors and agreed to testify against the three remaining defendants in the case. Langsner is charged with manslaughter and conspiracy to commit manslaughter, and Egbert and Massey are charged with conspiracy to commit manslaughter.
Smith says the Voorhis case "shattered" the "pretense that the minions who participate in the Final Exit Network are mere counselors -- rather than mobile assisted suicide clinics."
Final Exit, which was started in 2004 and claims to have more than 3,000 members, states on its website that "mentally competent adults have a basic human right to end their lives when they suffer from a fatal or irreversible illness or intractable pain, when their quality of life is personally unacceptable, and when the future holds only hopelessness and misery. Such a right shall be an individual choice, including the timing and companion, free of any restriction by the law, clergy, medical profession, even friends and relatives no matter how well-intentioned."
Dincin stressed that the group's mission is a social cause and a human right, calling it "the ultimate civil liberty." He says that assisted suicide is the civil rights cause of this century, "just as women's suffrage was in the '20s, racial rights in the '60s and gay and lesbian rights in the past 10 years."
But Drake questioned the motive behind the individuals who volunteer for FEN. "If you are close to a person who is suffering, you may do something out of mistaken compassion, but these people are committed to helping complete strangers," he said.
Smith questions Final Exit's judgment of "suffering" individuals and asks people to "take the time to look beneath the political posturing and the true agenda — death on demand for people with more than a transitory desire to die — comes clearly into focus."
"I think it is worth pointing out that the logic of these ideologues is impeccable. Once you accept the belief that killing is an acceptable answer to human suffering, assisting the suicides of the mentally ill -- whose suffering is often far worse than those with physical illnesses -- can become compelling," he said.
But Carolanne Cortese Barton of Alternate Group Counseling in Bayonne, N.J., says she sees the logic behind the billboard campaign, "because in life everyone has a choice, this really is all we have."
"Family traditions have changed and children are no longer able to take their elderly parents into their homes for care anymore and therefore have to send them to nursing homes," Barton said. She said the billboards create awareness that there are options out there for people who are suffering and do not want their families to suffer further by paying for treatment and care.