Beauty queen wife of 'El Chapo' expresses concerns about his health while in solitary confinement
The 28-year-old beauty queen wife of notorious Mexican cartel kingpin Joaquin "El Chapo" Guzman expressed concerns Tuesday about the drug lord's health while he's holed up in solitary confinement.
Emma Coronel, mother to Guzman's twin girls, said she hasn't been allowed to communicate with him since he was turned over to U.S. custody in 2017.
"My worry is his health because I know that he is in bad shape psychologically," Coronel said after a pretrial hearing in federal court in Brooklyn. "He feels bad from what lawyers are telling me. It worries me. How is he going to start the trial if he's not in good health?"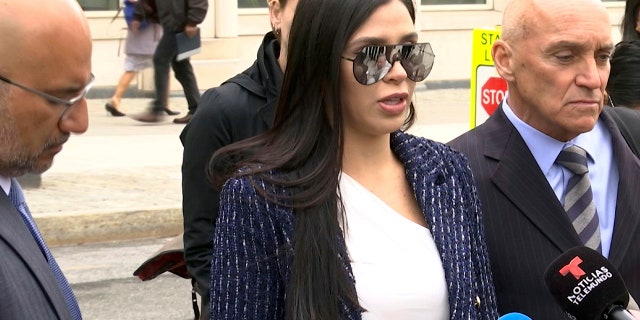 Coronel hasn't "seen him in 15 months" and only their children and the lawyer can see him, she said.
Guzman, 61, has complained about the conditions of his Manhattan jail where he's being held in solitary confinement. He was seen smiling and waving to Coronel as he was led into court.
Guzman needs to live in the so-called harsh conditions because of his history of escaping prisons in Mexico, U.S. prosecutors said. He's also known for running his drug empire from behind bars, prosecutors said.
The accused leader of the Sinaloa Cartel has pleaded not guilty to charges his gang laundered billions of dollars and oversaw a campaign of murders and kidnappings. He faces life in prison if he's convicted. His trial starts in September.
The Associated Press contributed to this report.