Authorities investigating Utah train derailment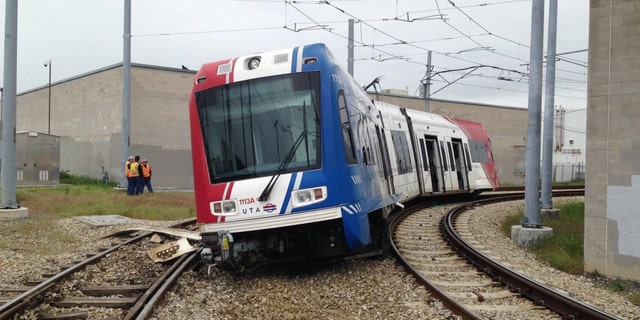 SALT LAKE CITY – Authorities are investigating why a Salt Lake City-area light rail train carrying 14 people went off the tracks Sunday afternoon.
Excessive speed or mechanical failure could have been factors in the derailment that happened on a curve shortly after the train left a station, Utah Transit Authority spokesman Remi Barron said Monday.
Four people were taken to area hospitals after the accident, two with minor injuries and two with moderate injuries, according to the Salt Lake City Fire Department.
The line remained out of service Monday morning and buses took commuters around the scene of the accident in South Salt Lake as crews lifted the train from the railyard. Service was expected to resume by Monday afternoon, after the tracks are checked for safety, Barron said.
Investigators will analyze information from an on-board data recorder as well as video recordings from inside and outside the train, which is not fully automated, Barron said.
The operator has been put on leave and will be interviewed and tested for drugs and alcohol, as is normal for accident investigations. No additional information about the driver was immediately released.
Train derailments have happened occasionally in the Utah service's approximately 17-year history, but this is the first in memory that didn't involve a collision with something else, Barron said.
The last time a train derailed it was because a car burst through barrier arms and collided with it in January.
"It's hard to derail a train," Barron said.